The United States Citizenship and Immigration Services (USCIS) has announced that processing times for Form I-526 – the EB-5 application form – has fallen to a five year low of just 14 months on average.
Conventional belief holds that average processing times are much longer because of the confusion caused by the processing time range published on the USCIS website. That range currently lists this time range as between 33.5 months and 60 months.
–
What the Current Processing Times on USCIS Website Actually Mean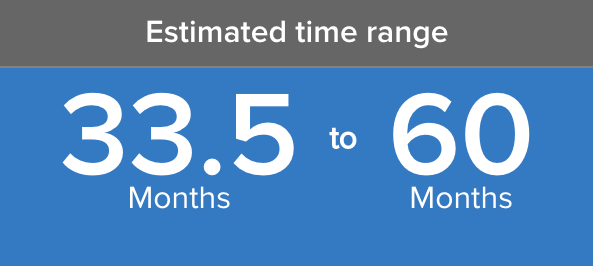 –
Yet those numbers can be misleading. USCIS calculates the date range as follows: the first date is the average time that it takes them to process 50% of cases, while the second date is the average time that it takes them to process 93% of cases.
So within those parameters, many EB-5 applicants experience much shorter processing times as the latest figures published by USCIS attest. It is the longer and more complicated cases that draw the time our. Direct EB-5 (non Regional Center), for example, are usually more complicated and take longer to process.
This is good news for anyone considering an EB-5 visa application. Especially those from countries that are not currently subject to retrogression delays. I.e. anyone except those born in China and Vietnam.
USCIS changed the way it sequences applications from a first-in-first-served basis to one where it prioritizes people applying from countries not in retrogression.
–
Average Processing Times for Form I-526 (Source: USCIS)
| | |
| --- | --- |
| Year | Average Processing Time |
| 2016 | 15.9 months |
| 2017 | 18.8 months |
| 2018 | 22.2 months |
| 2019 | 19.8 months |
| 2020 | 14.1 months |
–
The submission of the form I-526 is the first official stage of the EB-5 process. The date USCIS received your form becomes your "priority date". This needs to be checked against the State Department's visa bulletin to establish if you can proceed to the next stage and submit your application to the National Visa Center.
The vast majority of countries are listed as "Current" meaning you can move immediately to the next stage. Countries with a date listed against EB-5 in the visa bulletin – currently only Vietnam and China – must wait. There are two separate dates, a date for filing and a final action date. We explain what this means in our analysis of the visa bulletin. Click here for more.
The EB-5 visa provides a relatively fast route to a Green Card in exchange for a minimum $900,000 in a new venture that creates ten jobs. The investment must be made in a targeted employment area, otherwise the investment level doubles to $1.8 million. The vast majority of investors opt to invest with Regional Centers to mitigate compliance risks. Conducting due diligence on the Regional Center and its investment project is vital. One application and investment can include the applicant, a spouse, and children under the age of 21.
This article is published for clients, friends and other interested visitors for information purposes only. The contents of the article do not constitute legal advice and do not necessarily reflect the opinions of Davies & Associates or any of its attorneys, staff or clients. External links are not an endorsement of the content.