Turkish Citizenship by Investment
What is Turkish Citizenship by Investment and Residency by Investment?
The Turkish Citizenship by Investment ("CBI") program allows non-Turkish Citizens to obtain Turkish Citizenship by making a qualified investment in as little as 1-6 months.
Residency by investment does no grant applicants the right to Turkish nationality or a Turkish passport and does not qualify a successful applicant to apply for a US E-2 visa which is a benefit reserved for Turkish Nationals.
Why Turkey?
Turkey is not a "new" economic power and can be considered one of the oldest and most established economies in the world. In 2021 the World Bank reported the Turkish economy to have a GDP of USD 795 Billion. Turkish GDP is anticipated to grow to USD 1.33 Billion by 2026, placing it ahead of the Netherlands as the 18th largest economy in the world.
Given its position as a major international transport hub at the crossroads of Europe and Asia, it comes as little surprise that Turkey's citizenship by investment program is fast becoming one of the most popular in the world. Turkey's cost-effective program offers fast processing times and access to a strong passport and diverse economy. In addition, Turkish passport holders are eligible for the United States E-2 Visa, which allows a person to relocate to the United States for the purpose of owning and operating a business.
How do I Obtain Turkish Citizenship by Investment?
Turkey offers several quick and cost-effective pathways to citizenship. Applicants can choose between applicable programs.
* While Turkish Citizenship is granted immediately upon making a qualifies investment or bank deposit the Turkish Government will revoke the grant of Citizenship if the qualifying investment is not maintained for three (3) years.
Applicants are able to earn rental income or interest on their investment over this period. A Turkish passport offers visa free access to more than 150 countries around the world, as well as the opportunity to engage in Turkey's diverse economy.
What are the Benefits of Turkish Citizenship?
STRONG PASSPORT Visa Free Access to up to 115 Countries including Hong Kong, Japan and Singapore.
FAST PROCESSING TIMES Passport and citizenship can typically be obtained within 1 - 6 months.
NO RESIDENCY REQUIREMENT No requirement to spend time in Turkey.
POTENTIAL EU PASSPORT Since 2005 Turkey has been in negotiations to join the European Union.
ACCESS TO E2 VISA Turkey is an E-2 Treaty Country with the United States and obtaining Turkish citizenship makes a person eligible for this visa category.
DUAL CITIZENSHIP No requirement to give up existing citizenship.
LOCATION Turkey sits at the crossroads of Europe and Asia. Its national airline flies to more than 300 destinations worldwide.
MEDICAL CARE Access to free medical care for life for all included family members.
Why Is the Turkish Program the Cheapest CBI Program in the World?
The Turkish CBI Bank Deposit option is unique because it leaves the investor in full control of their investment capital with the ability to withdraw their capital at any time.
The Turkish bank deposit option involves an investor depositing USD 500,000 or more in a bank account with a major financial institution, which could be an international bank based in a foreign country, in Turkey. This bank account can be closed and the capital withdrawn by the investor at any time.
Because the bank account can be held in United States Dollars investors are also not exposed to the risk of fluctuation in the Turkish Lire.
As investors can withdraw their entire USD 500,000 interest-bearing deposit at any time the Turkish Bank Deposit option may be considered the cheapest CBI option in the world.
Arguably this option is lesser known because of the inability of agents to earn large commissions.
What is the Process for a Turkish Bank Deposit Case?
How Long Does the Turkish Real Estate Investment Option Really Take: The Hidden Tax Penalty of the Turkish Real Estate CBI Option?
While investors liquidating a Turkish Real Estate Investment after three (3) year will be able retain their Turkish Citizenship investors should be aware of the Turkish Capital Gains Tax ("TCGT") implications.
If an investor liquidates their real estate investment within five (5) years the investor may owe significant TCGT. Clients should schedule a meeting to discuss TCGT with a qualified and experienced Turkish Tax lawyer in our Istanbul office. At the time of writing many Turkish real estate assets have triple in value over the last three years BUT the Turkish Lire has halved in value, this makes TCGT especially punitive.
Based in Istanbul, D&A's Turkish legal team are able to assist investors to obtain liquidity after three (3) years by arranging for a secured loan against the investor's real estate asset. After five years the asset can be sold, the loan repaid and any residual value returned to the investor.
What is the Process for a Turkish Real Estate Investment Case?
Potential Conflict of interest Warning!
While many brokers and agents push clients to the real estate investment route clients are well advised to think through their choice of citizenship carefully. Because agents generally earn no commissions or fees in Turkish Citizenship by bank deposit case this option is seldom properly explained to clients. Until recently applicants were able to make a qualifying deposit in USD deposit in a major international bank with the ability to reclaim their capital at any time, thereby avoiding foreign exchange and real estate fluctuation risks.
What Nationalities Commonly Apply for Turkish CBI?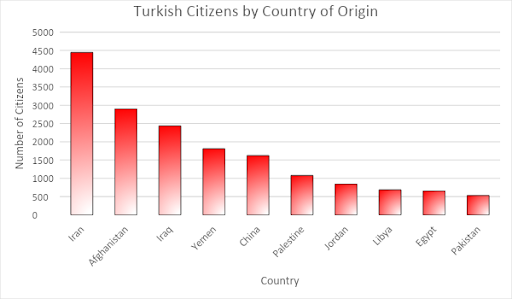 Our team have also assisted a number of Bangladeshi clients who have obtained Turkish Citizenship by Investment.
Other Resources
E-2 Visa : The Next Best Thing to a Green Card
An additional benefit of obtaining Turkish citizenship is that it offers access to the coveted E-2 Visa to the United States. The E-2 Visa allows a family to live and work in the United States for the purposes of owning and operating a business or franchise. The visa is often described as "the next best thing to a Green Card" because of the range of benefits it offers, including travel flexibility and the ability for a spouse to apply for work authorization in the United States. The key to an application is to present a credible business case to the US consulate in Istanbul. D&A is strongly positioned to help our clients build a strong business plan or alternatively find a franchise business which meets with the E-2 program requirements.
Two-Step Process to the USA
More than half of the world's population are ineligible for the E-2 Visa, which requires your nation to have a relevant treaty with the United States. Citizens of China, Vietnam, Nigeria, South Africa, India, and many other countries are all ineligible. Yet by taking Turkish citizenship, a person or family could become eligible. D&A is one of very few law firms in the world with successful experience of helping clients from ineligible countries obtain an E-2 Visa through such a two-step process.
Ongoing Support
Whether it is in Turkey or the United States, D&A and our partners are able to help you and your family thrive in your new location. From setting up a business and finding a property to advising on tax, we stay by your side long after your visas has been issued. Our Turkish partners are specialized in matters related to residencies, citizenship, setting up businesses, property investment and asset management. Our US-based team is drawn from the very top law schools and accountancy firms and they are able to help navigated the complex world of setting up a business and paying US taxes. Our team is spread across the world, we speak your language and we deliver a local service to our clients wherever they live.