EB5 IMMIGRANT INVESTOR VISA PROGRAM
WHAT IS EB5?
The EB5 visa offers US permanent residency in exchange for a minimum $800,000 investment in the United States. It is one of the fastest and most effective routes to a Green Card, which offers freedom to live, work, study or retire anywhere in America. Davies & Associates is one of the longest-established EB5 law firms in the industry and our team regularly contribute to the global media on the subject. We have helped hundreds of families, business owners and entrepreneurs relocate to America and have never had a case rejected on Source of Funds, which is one of the most challenging aspects of an EB5 application. Click here to meet some of our EB5 clients. Our success helping clients demonstrate they meet EB5 visa requirements comes from blending our highly qualified lawyers with an understanding of the culture, law, business practices and banking regulations in each jurisdiction we operate.
Return to Menu
Contact Us
BENEFITS OF EB5?
Fast Route to US permanent residency (Green Card)
Relatively cost-effective compared with other similar countries
Creates jobs and investment in America
Freedom to live, work, study and retire in the United States
Eligible family unit can be included in a single investment
While capital is at risk, there is a strong change on getting your money returned if you conduct due diligence on your investment
Regional Center program offers support with compliance
Possible to make and manage investment yourself
Return to Menu
Contact Us
WHY USE DAVIES & ASSOCIATES FOR YOUR EB5?
Our success comes from the strength of the unique team of lawyers we place around every client
Each D&A client is assigned a team of industry-leading EB5 lawyers each highly experienced with a specific area of the law. Our client EB5 teams typically include:
A local EB5 lawyer versed in the currency laws and practices of the countries from which a clients' funds are to be sourced
A real estate lending or finance lawyer to assist with project due diligence
A specialist US Source of Funds documentation lawyer
A senior EB5 attorney responsible for supervising the filing and submission of each client's case
Return to Menu
Contact Us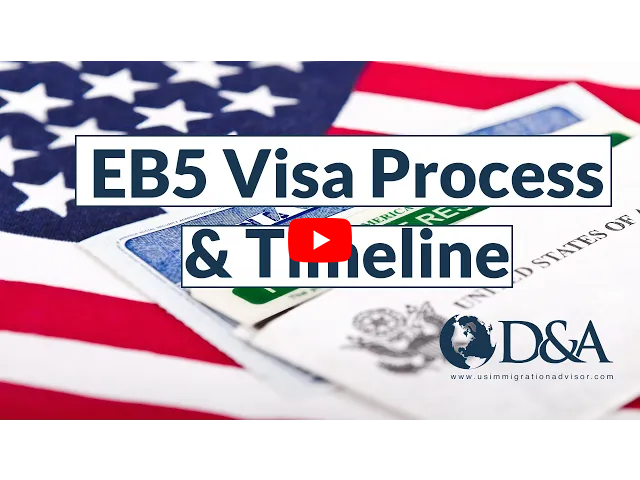 We are known for our creative solutions that obtain "impossible" visas, we solve the most complex immigration problems for businesses, investors, individuals, and families.
Speak to us today
Further information about the EB5 Immigrant Investor Visa Program
Several lawyers told me I would not be able to get a TN visa. Two weeks after contacting Davies & Associates I was working in New York, visa in hand.
Individual seeking 'Impossible' TN Visa
D&A was very detail-oriented and was very thorough in what they did" L1 Visa Client. There was a lot of work on my case and worked on it 24/7 and was very patient answering all my questions.
E2 Visa Client
My case felt complex but D&A managed the whole process carefully and helped me move seamlessly from one stage to the next.
E2 + CBI Client
D&A was my guiding light through the entire EB-5 Process.
EB-5 Visa Client
I will always use this firm in the future, they are miracle workers.
L-1 Visa Client
Looking to relocate or having trouble with a visa applicaton?
We are known for our creative solutions that obtain "impossible" visas, we solve the most complex immigration problems for business, investors, individuals and families.
Speak to us today