EB-5 Immigrant Investor Visa Program
What is EB-5?
The EB5 visa offers US permanent residency in exchange for a minimum $900,000 investment in the United States. Because of a federal judge ruling in June 2021 the price of EB-5 has temporarily dropped back to $500,000 – contact us immediately if you wish to attempt to invest at this level. It is one of the fastest and most effective routes to a Green Card, which offers freedom to live, work, study or retire anywhere in America. Davies & Associates is one of the longest-established EB-5 law firms in the industry and our team regularly contribute to the global media on the subject. We have helped hundreds of families, business owners and entrepreneurs relocate to America and have never had a case rejected on Source of Funds, which is one of the most challenging aspects of an EB-5 application. Click here to meet some of our EB5 clients. Our success comes from blending our highly qualified lawyers with an understanding of the culture, law, business practices and banking regulations in each jurisdiction we operate.
Return to Menu
Contact Us
Benefits of EB-5?
Fast Route to US permanent residency (Green Card)
Relatively cost-effective compared with other similar countries
Creates jobs and investment in America
Freedom to live, work, study and retire in United States
Eligible family unit can be included in single investment
While capital is at risk, there is a strong change on getting your money returned if you conduct due diligence on your investment
Regional Center program offers support with compliance
Possible to make and manage investment yourself
Return to Menu
Contact Us
Why use Davies & Associates for your EB-5?
Our success comes from the strength of the unique team of lawyers we place around every client.
Each D&A client is assigned a team of industry-leading EB-5 lawyers each highly experienced with a specific area of the law. Our client EB5 teams typically include:
A local lawyer versed in the currency laws and practices of the countries from which a clients' funds are to be sourced
A real estate lending or finance lawyer to assist with project due diligence
A specialist US Source of Funds documentation lawyer
A senior lawyer responsible for supervising the filing and submission of each client's case
Return to Menu
Contact Us
EB-5 Process & Timeline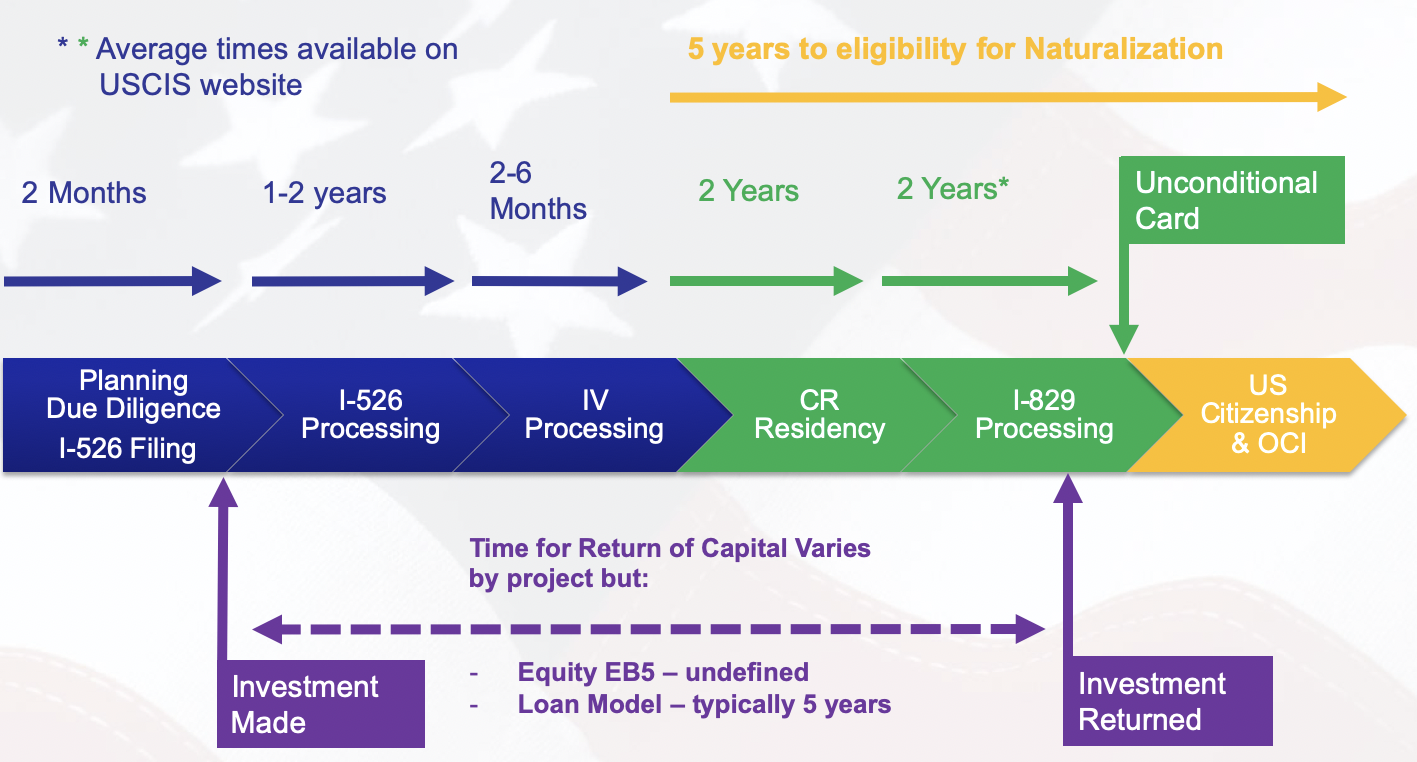 Return to Menu
Contact Us
Country Quotas
There are just over 700 EB-5 visas available to each country each year. If a country exceeds this quota then persons born in that country are subject to a waiting list. The majority of countries are not near using up their quotas, precise per country filing data is available on the Department of State website by clicking here. The EB-5 has proved so popular in China that people born in this country are subject to long delays. EB-5 is also popular in India and Vietnam, which have at times been subject to a delay. Citizens of countries facing quota delays should contact our team to discuss options for living in the United States while on the waiting list.
How do I know if My Country if Facing Quota Delays?
Every month the US State Department publishes a table called the "Visa Bulletin" that explains which countries have used-up their visas whose people are subject to the waiting list. The Visa Bulletin is published on the US State Department's website The Visa Bulletin is notoriously difficult to read so we have prepared a resources page and explanatory video on hope to read the Visa Bulletin.
Return to Menu
Contact Us
Family & EB-5
A single EB-5 investment can include an entire qualifying family unit. The eligible family unit can include the primary applicant, a spouse and any children under the age of 21. Forward planning may be required to ensure that your children do not "age out" of the process. Once you submit your application to USCIS, your childrens' ages freeze while the approval of you initial petition is pending. Once approved, the children start ageing again from their frozen age rather than their actual age. This means that children could actually be older than 21, but in the eyes of the US authorities they are still considered to be under 21. "Aging out" is mostly an issue in countries that face visa retrogression. Aging Out is a complicated topic and the purpose of this website to to provide general guidance only, please contact us to understand this issue in more detail.
Return to Menu
Contact Us
What are Regional Centers?
There are a lot of misconceptions as to what a Regional Center is and is not.
A Regional Center is simply a commercial, for profit, entity which has applied for and been granted a Regional Center license from USCIS. This does NOT imply that USCIS frequently inspect or warrant any project a Regional Center may offer.
Part of your inquiry into EB-5 will be to conduct full and proper due diligence on any Regional Center you are considering. We have prepared a list of questions you may wish to ask a Regional Center, please contact us to obtain this list.
Return to Menu
Contact Us
What is Direct EB-5?
While over 90% EB5 investments are made in projects sponsored by Regional Centers it is possible to invest in a project that is not offered through a Regional Center. While there is no requirement that you own the business in which you invest it is very common for a business owner to use Direct EB5 to obtain a "Green Card" by investing in his or her own business.
Should I choose Regional Center or Direct EB-5?
The first choice facing an EB5 investor is whether or not to invest through a "Regional Center" or in a "Direct" project.
In our experience many clients start out wanting to invest in their own business through the "Direct" route and while we have successfully guided many investors through the "Direct" EB5 route most clients opt to select a Regional Center once the differences between the two options are clearly explained.
| | | |
| --- | --- | --- |
| | Regional Center | Direct Investment |
| Job creation | Jobs can be implied and induced based on the investment made. | Requires the business to create ten real jobs. |
| Do Jobs have to be Needed? | There is no requirement that the jobs be actually by the business in which you are investing. | USCIS will make sure that not only has your investment created 10 jobs but that those jobs are legitimately needed by the business. |
| Own Business | Regional Centers do not generally allow and applicant to invest in their own business | Commonly used by owners of and investors in US businesses to obtain a "Green Card" |
| Required investment* | Requirements are identical to Direct cases. | Requirements are identical to Regional Center cases. |
| Participation in business | While by law an investment cannot be truly "passive" as a practical matter most EB5 investors are "passive investors with a limited role in the business. | While law is identical as with a Regional Center, our experience is that as a practical matter USCIS seek evidence of a more active role in the business |
New Commercial Enterprise
All EB-5 investors, whether Direct or Regional Center, must invest in a new commercial enterprise, which is a commercial enterprise:
Established after Nov. 29, 1990, or
Established on or before Nov. 29, 1990, that is:

Purchased and the existing business is restructured or reorganized in such a way that a new commercial enterprise results, or
Expanded through the investment so that a 40-percent increase in the net worth or number of employees occurs
Commercial enterprise means any for-profit activity formed for the ongoing conduct of lawful business including, but not limited to:
A sole proprietorship
Partnership (whether limited or general)
Holding company
Joint venture
Corporation
Business trust or other entity, which may be publicly or privately owned
This definition includes a commercial enterprise consisting of a holding company and its wholly owned subsidiaries, provided that each such subsidiary is engaged in a for-profit activity formed for the ongoing conduct of a lawful business.
Note: This definition does not include noncommercial activity such as owning and operating a personal residence.
Return to Menu
Contact Us
History of EB-5
USCIS administers the Immigrant Investor Program, also known as "EB-5," created by Congress in 1990 to stimulate the U.S. economy through job creation and capital investment by foreign investors. Under a pilot immigration program first enacted in 1992 and regularly reauthorized since, certain EB-5 visas also are set aside for investors in project orchestrated by Regional Centers.
The EB-5 program experienced only limited change and reform over the following three decades, despite calls from all stakeholders to improve the program to create longer-term certainty for investors. In November 2019, the US government made some changes to the EB-5 program. This included stricter rules around Targeted Employment Areas (TEA) and increasing the minimum investment amounts to $900,000 and $1.8 million. This was ostensibly to take account of inflation since the price had not been increased since the early 1990s.
Return to Menu
Contact Us
Job Creation Requirements for EB-5
Create or preserve at least 10 full-time jobs for qualifying U.S. workers within two years (or under certain circumstances, within a reasonable time after the two-year period) of the immigrant investor's admission to the United States as a Conditional Permanent Resident.
Create or preserve either direct or indirect jobs:

Direct jobs are actual identifiable jobs for qualified employees located within the commercial enterprise into which the EB-5 investor has directly invested his or her capital.
Indirect jobs are those jobs shown to have been created collaterally or as a result of capital invested in a commercial enterprise affiliated with a regional center by an EB-5 investor. A foreign investor may only use the indirect job calculation if affiliated with a regional center.
Note: Investors may only be credited with preserving jobs in a troubled business.
A troubled business is an enterprise that has been in existence for at least two years and has incurred a net loss during the 12- or 24-month period prior to the priority date on the immigrant investor's Form I-526. The loss for this period must be at least 20 percent of the troubled business' net worth prior to the loss. For purposes of determining whether the troubled business has been in existence for two years, successors in interest to the troubled business will be deemed to have been in existence for the same period of time as the business they succeeded.
A qualified employee is a U.S. citizen, permanent resident or other immigrant authorized to work in the United States. The individual may be a conditional resident, an asylee, a refugee, or a person residing in the United States under suspension of deportation. This definition does not include the immigrant investor; his or her spouse, sons, or daughters; or any foreign national in any nonimmigrant status (such as an H-1B visa holder) or who is not authorized to work in the United States.
Full-time employment means employment of a qualifying employee by the new commercial enterprise in a position that requires a minimum of 35 working hours per week. In the case of the Immigrant Investor Pilot Program, "full-time employment" also means employment of a qualifying employee in a position that has been created indirectly from investments associated with the Pilot Program.
A job-sharing arrangement whereby two or more qualifying employees share a full-time position will count as full-time employment provided the hourly requirement per week is met. This definition does not include combinations of part-time positions or full-time equivalents even if, when combined, the positions meet the hourly requirement per week. The position must be permanent, full-time and constant. The two qualified employees sharing the job must be permanent and share the associated benefits normally related to any permanent, full-time position, including payment of both workman's compensation and unemployment premiums for the position by the employer.
Return to Menu
Contact Us
How much does an EB-5 Investment Cost
The minimum investment requirement for an EB-5 visa is $900,000 in Targeted Employment Areas (TEAs), doubling to $1.8 million outside of a TEA. As of the end of June 2021, a federal judge ruling has caused the minimum investment amount to drop to $500,000 in Targeted Employment Areas, doubling to $1 million elsewhere. To avail yourself of the reduced investment amount – you must contact us immediately as the time window to do so is very narrow
Capital means cash, equipment, inventory, other tangible property, cash equivalents and indebtedness secured by assets owned by the alien entrepreneur, provided that the alien entrepreneur is personally and primarily liable and that the assets of the new commercial enterprise upon which the petition is based are not used to secure any of the indebtedness. All capital shall be valued at fair-market value in United States dollars. Assets acquired, directly or indirectly, by unlawful means (such as criminal activities) shall not be considered capital for the purposes of section 203(b)(5) of the Act.
Note: Investment capital cannot be borrowed.
Required minimum investments are:
General. The minimum qualifying investment in the United States is $1 million.
Targeted Employment Area (High Unemployment or Rural Area). The minimum qualifying investment either within a high-unemployment area or rural area in the United States is $900,000.
A targeted employment area is an area that, at the time of investment, is a rural area or an area experiencing unemployment of at least 150 percent of the national average rate.
Return to Menu
Contact Us
Source of Funds for EB-5
EB-5 applicants must be able to prove that the source of the funds used to pay for their investment come from legitimate sources. Davies & Associates will look at your asset base and identify the best options for your EB-5 application. This might include:
Property Sales
Investments
Salaries
Dividends
Commercial Sales
Gifts
Return to Menu
Contact Us
What is Form I-526?
Form I-526 is called the Immigrant Petition by Alien Investor. It is essentially your EB-5 application form where you also document your source of funds. Your application will be evaluated by USCIS on the basis of this form. Your immigration attorney will help you fill out and file your Form I-526.
Return to Menu
Contact Us
What is Form I-829?
Form I-829 is the petition by investor to remove conditions on permanent resident status. This is the point at which an EB-5 visa holder must apply to have the conditions on their Green Card removed. A successful EB-5 applicant will be initially be granted conditional residency for two years and this cannot be renewed. You must apply to remove the conditions on your Green Card within 90 days before this two-year time period has elapsed.
Return to Menu
Contact Us
What is a Targeted Employment Area (TEA)?
There are two types of Targeted Employment Areas (TEAs) - rural areas and areas with high unemployment. A TEA designation must be requested within the applicant's I-526 petition.. A rural area must be outside of a town with 20,000 residents, and it must not be within a 'metropolitan statistical area' as the U.S. Office of Management and Budget puts it. To receive a high unemployment area designation, an area must have an unemployment rate of at least 150% of the U.S. national average. Previously, individual states could designate high unemployment status, but from November of 2019, the Department of Homeland Security will allow such designations at the I-526 petition stage and requires evidence such as a TEA opinion letter.
Return to Menu
Contact Us
What if my EB-5 Case if Taking Too Long?
Unless your country of birth is in retrogression your I526 should approve in a reasonable period of time. While USCIS published average case processing times there is frequent confusion and misunderstanding as to what these numbers mean.
There are processes in place which an applicant whose case has not been processed within usual processing times can utilize to force the processing of his or her application. These include:
Senatorial Complaints

Use of the USCIS Ombudsman
Use of the USCIS Ombudsman
Writ of Mandamus
Return to Menu
Contact Us
What is a Writ of Mandamus?
EB-5 applications are submitted to the United States Citizenship and Immigration Services (USCIS) for adjudication. Owing to a backlog at USCIS, processing times can take more than a year. However, if you feel that your EB-5 application (Form I-526) has been unreasonably delayed, it is possible to file a lawsuit in a federal court to determine whether it has been unreasonably delayed.
Since filing a writ of mandamus is a legal course of action which may require litigation, it is always advisable to seek advice from an attorney. Contact D&A for a free consultation to determine whether it would be advantageous for your I-526 petition. Our team has filed dozens of successful writs of mandamus actions against USCIS for unreasonably delaying immigrant petitions. We can assist regardless of whether your I-526 application was prepared by Davies & Associates. The average time between filing a writ of mandamus and receiving an adjudication is around two months, in some cases it can be significantly less.
It is anticipated that USCIS might suddenly start processing applications at a faster pace. It is advisable to file a writ of mandamus as soon as possible to have your case reviewed ahead of a possible surge.
Why choose Davies & Associates for your EB-5 Application?
10 years' experience in EB-5
100% approvals for I-526
More than 1,000 successful EB-5 visas obtained for clients
100% success with Source of Funds
EB-5 clients from more than 20 countries
Experience with both Direct EB5 & Regional Center
Offer due diligence on Regional Center projects from both immigration and real estate law perspectives
Return to Menu
Contact Us
How do I maintain my Permanent Residency Status?
There are several things that you MUST do as a US conditional resident:
Maintain a record of your home address in the US with USCIS
File state and Federal Tax Returns using your US address
Obtain a state driving license or residency card
Not be outside the US for a continuous period exceeding six (6) months
Not be a recipient of welfare benefits:

The COVID support checks do not count for this purpose
Receiving unemployment insurance benefit is not considered "welfare" for this purpose

Do nothing to encourage or incite any family member or another person to enter the US on a visit visa with the intention of remaining permanently in the United States, this is a common issue with student visas
Note that a "Re-Entry" permit is issued by USCIS and is not binding on the US border officers.
There are additional steps that while not essential are highly advisable:
If possible the primary applicant to remain in the US for six months each year. Although this has never caused an issue for our clients it is, nevertheless, recommended.

We suggest that the primary applicant does not maintain a job outside the United States unless there is a clear plan that the role will transition to a US-based position within a reasonable period of time.
Return to Menu
Contact Us
Can my EB-5 Visa lead to US citizenship?
In order to be naturalized as a US citizen a permanent resident who obtained their green card through EB-5 must demonstrate:
The applicant has held a conditional or "full" green card for a period of five (5) years
During the five years immediately prior to the naturalization application being filed the applicant spent 50% of their time (i.e. 2.5 years) in the US.
They were not absent from the US for periods of time exceeding six (6) months. Absent very compelling evidence that there was no intent to abandon residency an absence of six months will cause the 5 year residency period to re-start.
Absent special permission in advance of the trip from USCIS (A RE-ENTRY PERMIT IS NOT SUFFICIENT FOR THIS PURPOSE) the applicant was not outside the US for a continuous period of one year while in permanent residency status. Spending more than one year outside the US will cause the five-year residency period to re-start and compelling evidence of an intention not to abandon US residency will not be considered.
Return to Menu
Contact Us
Watch Our EB-5 Client Testimonial
Return to Menu
Contact Us