Although studying and working in America is a dream that many parents have for their children, the pathway to achieving this has never looked more challenging. There is, however, one route that removes all the hurdles at a single stroke: the EB-5 Investor Visa.
Fast Route to a Green Card
The EB-5 visa is one of the fastest routes to a Green Card (US permanent residency). A green card removes the need for students to jump through the hoops of F-1 student visas, Optional Practical Training (OPT), and the much-maligned H-1B visa.
Permanent residency allows your children complete freedom to study or work anywhere in the United States and gives them time to find suitable employment. They may even qualify for in-state tuition fee rates.
OPT and the H-1B visa binds a student to a particular employer putting them in a weaker negotiating position when it comes to monetary compensation and benefits. It is harder to move jobs or, therefore, to leverage another offer to extract more concessions or a promotion.
The EB-5 visa dispenses with these issues as your child's presence in the US is not directly tied to their employment and there is no obligation to find a job or leave the country; it provides time to find a position with the best prospects for the future.
EB-5 Requirements
The EB-5 visa requires a minimum $900,000 investment. A whole family can receive green cards from a single investment, provided the children are under the age of 21.
The US authorities apply a slightly complex calculation around the age of children. Their age freezes at specific points of the application process and then unfreezes at other stages, which gives rise to the slightly strange situation wherein their actual age may be different than their age in the eyes of US Citizenship and Immigration Services (USCIS).
It is best to discuss this with an immigration attorney since long-term forward planning is always recommended. There is a maximum of just over 700 visas available to each country each year, which means that countries face a waiting list if this number is exceeded. This could cause delays and push a child over the age of 21. If this happens, the child would require an EB-5 investment separate from the rest of the family.
EB-5 Visa Source of Funds Requirements
The money used to fund the EB-5 investment must come from acceptable sources, and the USCIS requires you to document and explain the source of your funds. Source of funds can be Sale of property, investments, gifts, etc. This can be a time consuming process depending on the complexity of the movement of funds and therefore, planning before your child reaches 21 years is vital if you intend to file a family application. Proper planning is advised for all remittances.
The EB-5 investment must be made in a new commercial enterprise and must create ten (10) jobs. Failure to comply could put the Green Card at risk. So, while there are few takers who decide to make and manage the investment themselves via Direct EB5 route, most people choose to invest with a government-approved Regional Center.
There are many Regional Centers of varying quality; hence it is crucial to conduct due diligence on the Regional Center and its project to reduce any risks to the return of your $900,000 investment.
EB-5 may just be the ultimate graduation present for your child, however it would be too late if you start intend to move forward with it just before graduation. Even though the process may take considerable time, the rewards of working in the US without hindrance are very enticing for any student or their parents.
By Girish Mohile, Connect with Girish.
EB-5 Process & Timeline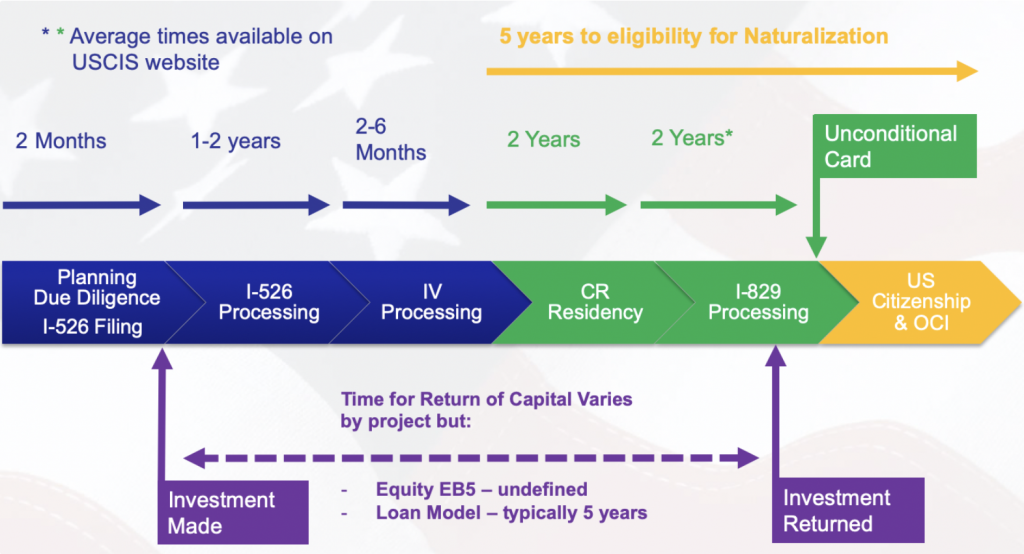 ---
This article is published for clients, friends and other interested visitors for information purposes only. The contents of the article do not constitute legal advice and do not necessarily reflect the opinions of Davies & Associates or any of its attorneys, staff or clients. External links are not an endorsement of the content.