The Department of State has issued its February Visa bulletin detailing the latest shifts in the Final Action Dates for the EB-5 Immigrant Investor Visa Program among other employment and family-based visas.
For EB-5, the February Visa Bulletin looks much the same as the January Visa Bulletin. As in January, the only change over the previous month is a two week progression in the Final Action Dates of Vietnamese applicants from September 15, 2017 to October 1, 2017. The Final Action Date for Chinese applicants has, once again, remained static on August 15, 2015.
All other countries are listed as "C" or current. This continues to include India, which had been subjected to an EB-5 visa waiting list known as "visa retrogression" as recently as July 2020.
What this means is that there is expected to be an EB-5 visa available in the current annual quota for anyone born outside China and Vietnam. This means an applicant can progress immediately with their EB-5 application.
The reason for the waiting list is that the number of EB-5 Investor Visas available is limited to just over 700 visas per country per year. Your EB-5 quota is determined by your country of birth. So if your country of citizenship has changed since birth, your eligibility is still determined by where you were born and not where you currently live.
Priority Dates
EB-5 applicants are issued with a priority date, which is the date at which their application was received by the US Citizenship and Immigration Services (USCIS).
For Chinese and Vietnamese applicants, if your priority date is after the date listed under your country in the visa bulletin, you must continue to wait. Eventually the date listed in the visa bulletin will move to a point at which you can proceed with your application. For example, the latest movements of two weeks in Vietnam would affect a small number of applicants who have their priority dates in a two-week window between September 15, 2017 and October 1, 2017.
The dates listed in the visa bulletin can move backwards as well as forwards. The dates are calculated upon assumptions and an averaging of current demand, success rates, and the numbers of visas per application.
For example, one application can include multiple family members each requiring their own visa. In an extreme scenario, an applicant might have a spouse and ten children. That would mean one application would take up 12 of the visas available in the annual quota.
The new administration of President Biden is looking at whether it is feasible to separate dependent family members out of the annual quotas. This would quickly make a dent in the waiting lists.
Date for Filing
The visa bulletin also contains a second set of dates called "Dates for Filing". This is when you could submit a visa application to the National Visa Center even though there is not yet expected to be a visa available. This is partly to provide some preparation time, but is especially aimed at applicants already living in the U.S. on other visas filing an Adjustment of Status (AOS). Under such circumstances this may have an impact on the applicants ability to continue working legally in the United States.
There was not change to the Date for Filing from the previous month. People from Vietnam can progress ahead, but the date for filing for China-born applicants remains static at December 15, 2015.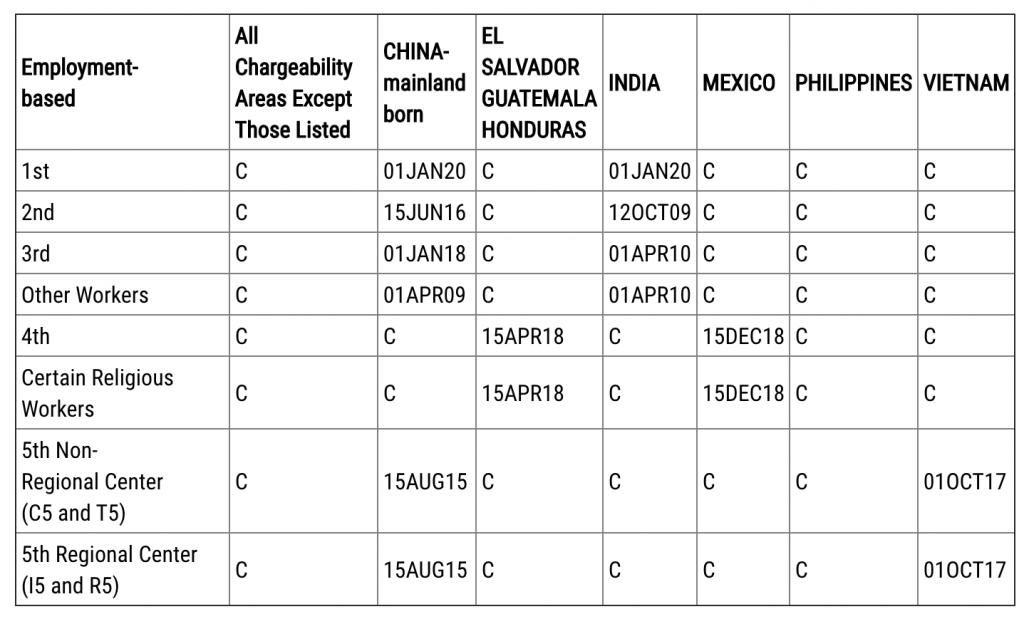 EB-3 Visa for Highly Skilled Workers
Indians are the main group affected by a waiting list for the EB-3 visa category for highly-skilled workers. The EB-3 is the immigrant (permanent residency) counterpart to the H-1B Visa. Progress remains glacial with little more than a one-week forward movement for Indians from March 22, 2010 to April 1, 2010. The only other country facing visa retrogression is China which moved from December 15, 2017 to January 1, 2018.
The long delay to Indian EB-3 is one of the reasons behind proposals by the Biden administration to remove country caps for employment-based visas. This will significantly assist Indians in the EB-3 Visa category and Chinese in the EB-5 Visa category. This would be great news for applicants who have been queuing for years, but could subject new applicants to long delays.
The annual quota system does not take account of population size. So China and India, with the world's first and second largest populations, have the same quota as Liechtenstein and San Marino, with fewer than 40,000 inhabitants each. This, combined with a long history of emigration to America, explains why China, India and Vietnam feature so heavily in the Visa Bulletin.
---
This article is published for clients, friends and other interested visitors for information purposes only. The contents of the article do not constitute legal advice and do not necessarily reflect the opinions of Davies & Associates or any of its attorneys, staff or clients. External links are not an endorsement of the content.