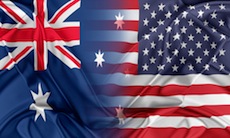 Which E-Visa Can Help you?
If you are an Australian national interested in working in or operating a business in the U.S. then the US E treaty visas may be for you. There are three types of E visas which can be stamped in an Australian passport:

The E1 treaty trader visa which allows a holder to be in the United States in order to engage in frequent trade between Australia and the United States; Learn More About the E1 Visa >
The E2 treaty investor visa which allows holders to either manage a US business or work for a US business which is owned by Australian Nationals; More General Information on E-2 Visas >
The E3 specialist worker visa which is unique to Australians and enables Australian nationals to work in a US businesses. Learn More About the E3 Visa >
E-2 Visas for U.S. Business Owners
If you are an owner of a business in the U.S., you may be eligible for an E2 visa that will allow you to enter the U.S. to manage that business. The U.S. government will do a detailed analysis of the business in order to determine that it is properly formed and that it has the potential to succeed and employ U.S. workers.
Each case will be reviewed closely and individually, but in general, the essential elements that must be met in order to qualify for the visa are:
you must be the holder of an Australian passport (or another country on the E-2 list);
the U.S. business is at least 50% owned and controlled by Australian nationals or an Australian company;
a substantial amount of money/assets has been invested in the U.S. business or will imminently be invested;
the business is a for-profit company (non-profits/charities do not qualify);
the business will do more than just earn a living for you and your dependent family, it needs to have the capacity to employ U.S. workers;
you will serve as an active Manager/Executive for the U.S. business; and
you intend to leave the U.S. after your visa expires. For detailed information about the requirements for an E-2 investor/manager visa, please click here: Starting a Business in the United States: E-2 Investor Visas For Australians (General Guidelines)
E-2 Visas for Australian Essential/Specialty Workers:
Australian nationals may be eligible for E-2 visas as "essential" or "specialty" workers if the following basic elements are met:
the worker has a job offer from a U.S. business that matches their education and experience;
the worker is going to be paid a fair wage (see the link below for more information);
the U.S. business is at least 50% owned by Australians and Australians are actively developing and directing the U.S. company; and
the worker is truly essential or specialized such that the U.S. business needs them and the position being offered could not instead by easily filled by a U.S. worker.
For detailed information about the requirements for an E-2 specialized worker visa, please click here: Bringing Over Australian Nationals to Work in your Australian-Owned US Business: the E-2 Essential Employee Visa (General Guidelines)
Applying for an E2 Visa in Sydney:
E2 visa applicants must submit an E2 application package which narrowly meets the guidelines set by the applicable U.S. Consulate. As different U.S. Consulates have different requirements a detailed knowledge of local requirements is essential. Our legal services include the preparation and submission of your E-2 application on your behalf. Your E-2 application will be reviewed and processed at the US Consulate in Sydney if your home residence is in any of the following:
Australian Capital Territory
New South Wales
Norfolk Island
Queensland
Applying for an E2 Visa in Sydney
In Sydney, all documents are filed electronically.
Step
Description
How
1. Prepare Business Plan
The business plan is probably the single most important part of an E-2 and E-1 visa application. It is the "backbone" of the application package.
There are various business plan preparation services. It is CRITICAL the plan is worked on in conjunction with and reviewed by an experienced E2 visa lawyer.
2. Fund Application
You need to evidence that enough funds have been invested and that those funds properly fund the business.
You need to place enough funds in escrow to evidence your ability to fund the business operations. In thousands of E2 applications no client has ever been asked to evidence that the funds have been spent and there is a regulation and FAM guidance stating that escrowed funds meet the "irrevocably" invested requirement. One consulate did tell one client they were uncomfortable with escrowed funds, we complained to the US State Dept. and the consulate were "over-ruled".
3. Prepare E-2 Visa Application
The business plan and other relevant evidence needs to be collated into an application package that meet the requirement of the US Consulate in Sydney.
Different consulates have different guidance for the package needed for an E-2 treat investor visa application. In Sydney guidance is available here. While an experienced E2 immigration lawyer can provide more information the U.S. Department of State Foreign Affairs Manual (9 FAM 41.51)
4. Complete form DS 160.
Nonimmigrant Visa Electronic Application (DS-160) form
Guidance for completing for DS 160 is available from the US State Department.
Most E-2 visa applicants have their application, including form DS 160 prepared and filed by their immigration lawyer.
5. Submission of E-2 Visa Package.
You or your lawyer can submit your complete application by e-mail to:

[email protected]

.
Your application must be in PDF format and be of mot more than 100 pages (not including the application forms) with a maximum file size of 9MB and be properly tabbed and formed to consular requirements.
6. Pay your E-2 visa application fee.
Visa application fees are listed here and at the time of writing are USD 205.
Create a user profile online and pay the Machine Readable Visa (MRV) fee for yourself and any accompanying family members. Follow the step-by-step instructions provided at the U.S. Visa Information Service for Australia website.
7. Wait for Appointment
Within fifteen (15) days of receipt of your application the US Consulate in Sydney will contact you and authorize you to schedule an appointment.
Schedule appointment on-line upon consular authorization to do so.
8. Visa Interview and Visa Issuance
Attend visa interview at US consulate. If your visa is issued you will have to pay the visa reciprocity fee. At the time of writing the fee for an Australian National is USD 3,574. Current Fees are posted on-line.
Surender passport at consulate for stamping of E2 visa.
For a free assessment of whether you qualify for an E-2 visa, please e-mail us or call our office in Australia (1-860-830-5665).
Solutions by City:
Select a City for local information
Contact Davies & Associates Offices in Australia
Check all of our locations around the world.
Telephone number
---
Contact us by email
Looking to acquire an E2 Visa in Sydney, Australia?
We are known for our creative solutions that obtain "impossible" visas, we solve the most complex immigration problems for businesses, investors, individuals, and families.
E2 Visa in Sydney, Australia Immigration lawyer near me
Several lawyers told me I would not be able to get a TN visa. Two weeks after contacting Davies & Associates I was working in New York, visa in hand.
Individual seeking 'Impossible' TN Visa
D&A was very detail-oriented and was very thorough in what they did" L1 Visa Client. There was a lot of work on my case and worked on it 24/7 and was very patient answering all my questions.
E2 Visa Client
My case felt complex but D&A managed the whole process carefully and helped me move seamlessly from one stage to the next.
E2 + CBI Client
D&A was my guiding light through the entire EB5 Process.
EB5 Visa Client
I would definitely be a big advocate for the rest of my life for anyone wanting to explore the Grenada Citizenship by Investment Programme leading to the E2 Visa. The most important thing is a good team behind you.. with Davies & Associates you're in safe hands… you need someone who can give you all the support at the ground level and, again, you are well take care of by D&A. The people are really warm, very helpful and quite openminded when it comes to business… Not to mention as a passport it's great from a travel perspective…It's just 4/5 hours from New York.
Grenada CBI + E2 Visa Client
The entire process of getting an EB5 visa is handled in a professional way by Mark Davies and his team. EB5 is a wonderful option for anyone considering moving to the United States if you have the means. I was hoping to use the H1B route for my children, but it became unreliable and so I looked to the EB5 Visa instead. It is great for anyone who has the resources. Mark gives you the first meetings himself which gives you great comfort. Both Mark and Sanjay are abundantly available and I even had the pleasure of hosting them at my house.
Parent of 2 EB5 Visa Holders
I'm in a process of extending my L1 visa. I submitted a few questions regarding my case and he contacted me back almost immediately both by e-mail and telephone. Unlike other attorneys I met before, he gave me the impression of knowing from the top of his head what kind of visa I have, and what actions had to be taken to extend it. He is very thorough and clear regarding the process and what to expect in terms of timelines and issues that may arise. He is constantly in contact, so you definitely know he's working on your case.
L1B Visa Holder
Mark Davies is a joy to work with. His extensive knowledge, speedy response and attentive service took away all my fears of dealing with immigration and visa applications. He is very generous with his time in explaining every step along the way and I have already and will in the future recommend him to anybody who is looking for an immigration lawyer.
E2 Visa for Small Professional Business With International Offices
Davies & Associates assisted us with an immigration emergency involving my brother's fiancée who was outside the United States. They assisted us in an highly professional manner, working with the relevant US embassy, US immigration and the governments of two other countries. As a result of their efforts the individual involved is now working in the United States. While their knowledge of the law is exemplary what really distinguishes this firm and attorney Davies from any other firm we have worked with is their dedication to customer service and their unrivaled level of professionalism.
Complex Fiancée Visa Need Involving Multiple International Jurisdictions
Several lawyers told me I would not be able to get a TN visa. Two weeks after contacting Davies & Associates I was working in New York, visa in hand. I have recommended this firm to several friends and colleagues, they do an excellent job every time.
Individual Seeking 'Impossible' TN Visa
I was qualified as a physician in a foreign country. Being on a J1 visa I was facing having to leave the United States and return to my home country. Davies & Associates secured one of only 30 J1 visa waivers available in my State, allowing me to work for a US hospital and remain in the United States.
Doctor Seeking J1 Visa Waiver
I am very satisfied with the services Mark Davies has provided me. He has a very extensive knowledge in immigration laws and has a thorough approach to any case.
U Visa Applicant, A Victim of Crime
Looking to relocate or having trouble with a visa applicaton?
We are known for our creative solutions that obtain "impossible" visas, we solve the most complex immigration problems for business, investors, individuals and families.
Request Free Consultation