Expanding or Establishing your Business in the United States: The Business Plan
Is a Business Plan Important?
Yes. When applying for a business investment visa (EB5, E-1 or E-2), expanding or starting a business in the United States through an L-1 visa a business plan can be critical. This is especially the case with smaller businesses that have lower revenues or lower numbers of employees. New businesses are also entities for which both USCIS and Consular Officers expect a detailed business plan laying out the growth strategy of the firm in the United States.
Major Multinational Firms and Business Plans
Our immigration law firm is privileged to represent some major multi-national firms with extensive business operations in the United States. While providing a business plan can never hurt and application business plans are for less critical for this type of client.
Business Plan is Your Opportunity
Officials responsible for training consular officers who review E visa applications have told us that the business plans are critical.
The business plan is your opportunity to explain your business concept to the immigration authorities who will make a decision on your visa case. We believe part of our success rate with L, EB5, E and other business visas is, in part, attributable to the time and focus we spend working with clients understanding their business and formulating their business plans.
Case Illustrations:
Attention to Detail
One case our firm handled involved an investment visa. Another law firm had already filed an unsuccessful application for the visa. Comments from the consulate suggested that the business plan filed by the other law firm was not credible and was not reflective of the business described in the rest of the documentation, we believe that the law firm involved had not taken the time to get to know the client's business and were, therefore, ill equipped to represent it. Our client agreed.
"You must ensure that every sentence of your business plan meets not only the legal requirements for your current visa applications but properly considers and reflects your future immigration strategy."
Long-Term Strategy
Our client had applied for an L-1 visa and filed a business plan with another firm. The business plan did not however allow for certain key elements of long-term growth and contained material that actually illustrated that the client did not meet certain immigration requirements of the law. When the client later applied for an EB-5 visa he was denied owing to errors in the business plan. The client then tried to apply for a "green card" based on his status as an "international manager" using the provisions of EB1C3 and was again denied.
If I Already Have a Business Plan, Can I Use it?
We believe that it is impossible to properly represent a business immigration client without thoroughly understanding their business. For this reason we insist our immigration lawyers have substantial business experience in addition to their legal practice work.
Why are Business Plans Poorly Received in Immigration Cases?
Based on the review of unsuccessful visa applications prepared by other firms we believe the following have proved fatal in immigration business plans in the past:
| | |
| --- | --- |
| ✖ | Plans that do not consider future as well as current immigration strategy. |
| ✖ | Plans where every sentence has not been reviewed by an experienced immigration lawyer to ensure it conforms with applicable immigration laws and regulations. |
| ✖ | Plans that have business inconsistencies or unrealistic assumptions. |
| ✖ | Failure of the business plan to properly reflect the client's strategy as reflected in a consular interview or other documentation. |
| ✖ | Inconsistencies between the financial model in the business plan, the rest of the documentation and the immigration regulations. |
| ✖ | In one case we reviewed an immigration lawyer missed a critical issue that would have been obvious had they bothered to visit the client's business location. |
In response to frustration with poorly prepared business plans our firm adopted a unique approach to the preparation of immigration business plans for our clients.
How is Davies & Associate's Approach to Assisting with Your Immigration Business Plans Different?
Most law firms do not become substantively involved with the preparation of business plans and do not have experienced immigration lawyers with substantial business plan training and experience to do so. We believe that to represent you properly it is essential for us to thoroughly know your business and ensure not only that every sentence of the business plan is geared to evidencing your case but that the entire plan as a whole paints a picture of a business that is consistent with applicable immigration laws and regulations.
What is the Three Stage Review Process?
We employ a three step review process for the production of immigration business plans:
1. Your Input, Our Research
Our business plans are drafted by an experienced immigration business plan analyst and immigration lawyer based on:
Information provided by our clients through our business plan questionnaire;
Our direct observation of your business, often obtained by visiting your business;
Our listening to your explanation of your business;
Data received from various commercial intelligence sources our business plan team subscribe to;
Our knowledge of the US markets;
Analysis of the applicable immigration law and regulations;
Any preferences we are aware of at the consulate to which you will be applying.
2. Experienced Immigration Business Plan Analyst
While it is important to remember that the business plan will always remain your presentation of your own business our experienced team of immigration business analysts and lawyers are ready to assist. An experienced immigration business plan analyst will collate all of the materials we receive on your business and the research we conduct and consolidate it into a draft business plan within two weeks.
3. Experienced Immigration Lawyer
An experienced immigration lawyer will work with you and the immigration business plan analyst assigned to your case to refine and finalize the plan so that, in or opinion, it is the very best immigration presentation of your business possible.
What is the Process for Producing a Business Plan at Davies & Associates?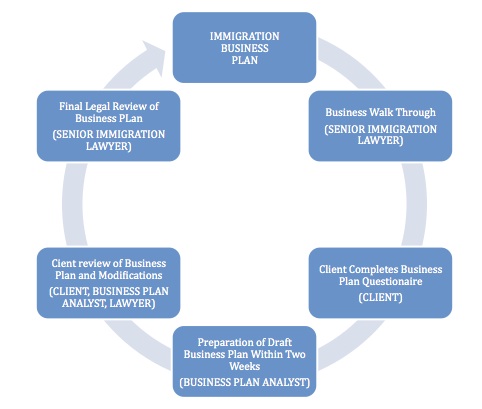 Why do Davies & Associates Visit their Client's Businesses?
Obtaining a business visa for you and establishing a business in the United States demands that we properly and accurately represent your business and your business goals to the United States Government. We believe it is impossible for any immigration lawyer to competently do that without getting to know you business and, ideally, visiting it.
In addition our firm seeks to be your long-term partner to success and actively seeks to fully and completely understand your business so we can assist you meet your business goals.
Contact Davies & Associates Offices in United States
Check all of our locations around the world.
Looking to acquire an US Visa?
We are known for our creative solutions that obtain "impossible" visas, we solve the most complex immigration problems for businesses, investors, individuals, and families.
US Visa Immigration lawyer near me
Several lawyers told me I would not be able to get a TN visa. Two weeks after contacting Davies & Associates I was working in New York, visa in hand.
Individual seeking 'Impossible' TN Visa
D&A was very detail-oriented and was very thorough in what they did" L1 Visa Client. There was a lot of work on my case and worked on it 24/7 and was very patient answering all my questions.
E2 Visa Client
My case felt complex but D&A managed the whole process carefully and helped me move seamlessly from one stage to the next.
E2 + CBI Client
D&A was my guiding light through the entire EB5 Process.
EB5 Visa Client
I would definitely be a big advocate for the rest of my life for anyone wanting to explore the Grenada Citizenship by Investment Programme leading to the E2 Visa. The most important thing is a good team behind you.. with Davies & Associates you're in safe hands… you need someone who can give you all the support at the ground level and, again, you are well take care of by D&A. The people are really warm, very helpful and quite openminded when it comes to business… Not to mention as a passport it's great from a travel perspective…It's just 4/5 hours from New York.
Grenada CBI + E2 Visa Client
The entire process of getting an EB5 visa is handled in a professional way by Mark Davies and his team. EB5 is a wonderful option for anyone considering moving to the United States if you have the means. I was hoping to use the H1B route for my children, but it became unreliable and so I looked to the EB5 Visa instead. It is great for anyone who has the resources. Mark gives you the first meetings himself which gives you great comfort. Both Mark and Sanjay are abundantly available and I even had the pleasure of hosting them at my house.
Parent of 2 EB5 Visa Holders
I'm in a process of extending my L1 visa. I submitted a few questions regarding my case and he contacted me back almost immediately both by e-mail and telephone. Unlike other attorneys I met before, he gave me the impression of knowing from the top of his head what kind of visa I have, and what actions had to be taken to extend it. He is very thorough and clear regarding the process and what to expect in terms of timelines and issues that may arise. He is constantly in contact, so you definitely know he's working on your case.
L1B Visa Holder
Mark Davies is a joy to work with. His extensive knowledge, speedy response and attentive service took away all my fears of dealing with immigration and visa applications. He is very generous with his time in explaining every step along the way and I have already and will in the future recommend him to anybody who is looking for an immigration lawyer.
E2 Visa for Small Professional Business With International Offices
Davies & Associates assisted us with an immigration emergency involving my brother's fiancée who was outside the United States. They assisted us in an highly professional manner, working with the relevant US embassy, US immigration and the governments of two other countries. As a result of their efforts the individual involved is now working in the United States. While their knowledge of the law is exemplary what really distinguishes this firm and attorney Davies from any other firm we have worked with is their dedication to customer service and their unrivaled level of professionalism.
Complex Fiancée Visa Need Involving Multiple International Jurisdictions
Several lawyers told me I would not be able to get a TN visa. Two weeks after contacting Davies & Associates I was working in New York, visa in hand. I have recommended this firm to several friends and colleagues, they do an excellent job every time.
Individual Seeking 'Impossible' TN Visa
I was qualified as a physician in a foreign country. Being on a J1 visa I was facing having to leave the United States and return to my home country. Davies & Associates secured one of only 30 J1 visa waivers available in my State, allowing me to work for a US hospital and remain in the United States.
Doctor Seeking J1 Visa Waiver
I am very satisfied with the services Mark Davies has provided me. He has a very extensive knowledge in immigration laws and has a thorough approach to any case.
U Visa Applicant, A Victim of Crime
Looking to relocate or having trouble with a visa applicaton?
We are known for our creative solutions that obtain "impossible" visas, we solve the most complex immigration problems for business, investors, individuals and families.
Request Free Consultation