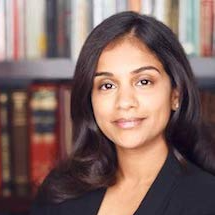 Farah S. Abbas
Senior Immigration Attorney
Overview
Farah is a senior immigration attorney. She is a member of businesss (L1-A and E2) and investor (EB-5) visa practice group. She is a highly sought-after attorney based in the firm's Chicago, IL office. Ms. Abbas has served individuals and businesses throughout the country and the world and has helped hundreds achieve their legal goals. Through the EB-5 Immigrant Investor Program, Ms. Abbas has assisted clients in placing over $200 million in funding for major mixed-use construction and critical infrastructure projects across the United States. Her expertise, dedication to excellent customer service, and attention to detail have enabled her to successfully represent over 300 individual EB-5 investors who have obtained green cards through the EB-5 program.
Ms. Abbas is the co-author of "Finding the TEA: 'Targeted Employment Area' Required to Claim Minimum Investment under the EB-5 Visa Rules," a chapter in a leading guide book Immigration Options for Investors & Entrepreneurs. She has spoken at EB-5 industry gatherings and often gives counsel to other attorneys on EB-5 requirements and best practices.
Ms. Abbas also has professional experience on Wall Street, having previously worked at one of the leading investment banks in the world, Merrill Lynch. This background in finance has given her a broad vantage point to guide clients through complex corporate and securities law issues.
Credentials
Education
J.D., George Washington University School of Law
Jurisdictions Admitted to Practice
Virginia
Our Services