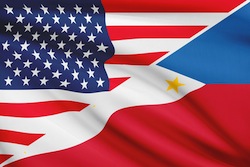 Davies & Associates
has a dedicated Philippine Practice Team composed of dual-qualified, well-credentialed and highly trained lawyers to address your visa needs. Our team is focused on tailoring visa solutions to meet the personal, professional or business requirements of Filipino clients. Given the various options and the complexities of each pathway, Davies & Associates will determine the right visa for you and guide you every step of the way.
The U.S. maintains a treaty of commerce and navigation with the Philippines effective September 6, 1955. Hence, Filipino companies and nationals qualify for E-1 nonimmigrant visa classification that would allow admission to the U.S. solely to engage in international trade on his or her own behalf. Certain employees of such a person or of a qualifying organization may also be eligible for this classification.
In order to qualify for E-1 classification, the treaty trader must:
Be a national of a country with which the United States maintains a treaty of commerce and navigation
Carry on substantial trade
Carry on principal trade between the United States and the treaty country which qualified the treaty trader for E-1 classification.
Trade is the existing international exchange of items of trade for consideration between the United States and the treaty country. Items of trade include but are not limited to:
Goods
Services
International banking
Insurance
Transportation
Tourism
Technology and its transfer
Some news-gathering activities
DOING BUSINESS IN THE U.S.
Take advantage of the E-1 non-immigrant visa classification that is only available to specific treaty countries including the Philippines. The Filipino enterprise or corporation has a unique advantage in doing business in the US primarily because of the substantial similarities of the government structure as well as laws of the Philippines and the US. Most laws of the Philippines are patterned after the US laws. Several examples are contract laws, securities regulation, and intellectual property laws.
With this advantage, the Filipino investor can tap the vast domestic market of the US and expect a transparent legal system as well as access to federal-level programs and services related to business investment.
You can start by checking on the wealth of resources in learning more about engaging in trade in the U.S. made available by The US Embassy in Manila, as follows:
Select USA website for programs, incentives and industry snapshots
A dedicated US Embassy Commercial Team that can address interests and needs
Cluster mapping tool to learn about regional business strengths as well as case studies and toolkits in formulating business strategies.
Take the crucial next step by contacting us at Davies & Associates. We will guide you through every step of the way to make your vision a reality.
OUR SERVICES
We offer flexibility to all our clients with the legal service options that we provide, as follows:
No Obligation Visa Assessment
Send us an email or give us a call and we will gladly address your basic questions and assess your current visa situation and/or eligibility for free.
Comprehensive Preliminary Consultation
After our initial assessment, we can schedule a 60-minute comprehensive consultation for a reasonable fee. We will address all other questions that you may have after our initial assessment and give you substantive legal advice and expert guidance. We will provide you with a questionnaire as may be necessary to review the strength and credibility of your case.
Should you decide to engage our firm, the preliminary consultation fee will be credited and will be deducted from the legal fees that will be determined for your case.
Expert Legal Representation
Once you decide to retain Davies & Associates for your case, you will get expert legal guidance from inception of the case to its completion. Our lawyers will stay on top of your case and work with you to accurately accomplish all the required forms. You will receive prompt and accurate answers to your questions and concerns. You will also get complete access to your files throughout the process.
Corporate and Tax Services
For our clients applying for business visas, we also offer other related services i.e. business plan preparation, incorporation, compliance and tax advice. Our lawyers hold degrees from the best law and business schools in the United and States and have acquired relevant experience from the top law firms and Fortune 100 companies.
Address
1201 Roxas Boulevard, Manila, Philippines 1000
Non-Immigrant/Immigrant Visas
Via PLDT or SMART (with NDD or IDD access):
Tel. No. 1-909-101-7878 1-909-101-7878
The number will be available for GLOBE subscribers shortly.
Callers in the USA can also contact the Call Center at 1-888-877-9888 1-888-877-9888 FREE.
There is a fee assessed to callers by the call center for its services.
Fax
From within the Philippines:
(63)(2) 301-2208
From within the United States:
011 (63)(2) 301-2208
E-mail
[email protected]
Mailing Address from the United States
Field Office Director
Department of Homeland Security
U.S. Citizenship and Immigration Services
Unit 8600 Box 1575
DPO AP 96515-1575
Mailing Address from Outside the United States and Express Mail Address
Field Office Director
Department of Homeland Security
U.S. Citizenship and Immigration Services
Embassy of the United States
1201 Roxas Boulevard, Ermita
Manila, 0930 Philippines
Phone
(63)(2) 301-2000, extension 2224 (from within the Philippines)
011 (63)(2) 301-2000, extension 2224 (from the United States)
Contact Davies & Associates Offices in Philippines
Check all of our locations around the world.
Looking to acquire an E-1 VISA FOR FILIPINO TRADERS?
We are known for our creative solutions that obtain "impossible" visas, we solve the most complex immigration problems for businesses, investors, individuals, and families.
E-1 VISA FOR FILIPINO TRADERS Immigration lawyer near me
Several lawyers told me I would not be able to get a TN visa. Two weeks after contacting Davies & Associates I was working in New York, visa in hand.
Individual seeking 'Impossible' TN Visa
D&A was very detail-oriented and was very thorough in what they did" L1 Visa Client. There was a lot of work on my case and worked on it 24/7 and was very patient answering all my questions.
E2 Visa Client
My case felt complex but D&A managed the whole process carefully and helped me move seamlessly from one stage to the next.
E2 + CBI Client
D&A was my guiding light through the entire EB5 Process.
EB5 Visa Client
I would definitely be a big advocate for the rest of my life for anyone wanting to explore the Grenada Citizenship by Investment Programme leading to the E2 Visa. The most important thing is a good team behind you.. with Davies & Associates you're in safe hands… you need someone who can give you all the support at the ground level and, again, you are well take care of by D&A. The people are really warm, very helpful and quite openminded when it comes to business… Not to mention as a passport it's great from a travel perspective…It's just 4/5 hours from New York.
Grenada CBI + E2 Visa Client
The entire process of getting an EB5 visa is handled in a professional way by Mark Davies and his team. EB5 is a wonderful option for anyone considering moving to the United States if you have the means. I was hoping to use the H1B route for my children, but it became unreliable and so I looked to the EB5 Visa instead. It is great for anyone who has the resources. Mark gives you the first meetings himself which gives you great comfort. Both Mark and Sanjay are abundantly available and I even had the pleasure of hosting them at my house.
Parent of 2 EB5 Visa Holders
I'm in a process of extending my L1 visa. I submitted a few questions regarding my case and he contacted me back almost immediately both by e-mail and telephone. Unlike other attorneys I met before, he gave me the impression of knowing from the top of his head what kind of visa I have, and what actions had to be taken to extend it. He is very thorough and clear regarding the process and what to expect in terms of timelines and issues that may arise. He is constantly in contact, so you definitely know he's working on your case.
L1B Visa Holder
Mark Davies is a joy to work with. His extensive knowledge, speedy response and attentive service took away all my fears of dealing with immigration and visa applications. He is very generous with his time in explaining every step along the way and I have already and will in the future recommend him to anybody who is looking for an immigration lawyer.
E2 Visa for Small Professional Business With International Offices
Davies & Associates assisted us with an immigration emergency involving my brother's fiancée who was outside the United States. They assisted us in an highly professional manner, working with the relevant US embassy, US immigration and the governments of two other countries. As a result of their efforts the individual involved is now working in the United States. While their knowledge of the law is exemplary what really distinguishes this firm and attorney Davies from any other firm we have worked with is their dedication to customer service and their unrivaled level of professionalism.
Complex Fiancée Visa Need Involving Multiple International Jurisdictions
Several lawyers told me I would not be able to get a TN visa. Two weeks after contacting Davies & Associates I was working in New York, visa in hand. I have recommended this firm to several friends and colleagues, they do an excellent job every time.
Individual Seeking 'Impossible' TN Visa
I was qualified as a physician in a foreign country. Being on a J1 visa I was facing having to leave the United States and return to my home country. Davies & Associates secured one of only 30 J1 visa waivers available in my State, allowing me to work for a US hospital and remain in the United States.
Doctor Seeking J1 Visa Waiver
I am very satisfied with the services Mark Davies has provided me. He has a very extensive knowledge in immigration laws and has a thorough approach to any case.
U Visa Applicant, A Victim of Crime
Looking to relocate or having trouble with a visa applicaton?
We are known for our creative solutions that obtain "impossible" visas, we solve the most complex immigration problems for business, investors, individuals and families.
Request Free Consultation