What is an E-2 Visa?
An E2 visa enables the national of certain countries to "direct and control" the operations on a business from inside the United States.
Why is a Law Firm with a Presence in New York Important for E2 Work?
USCIS or the applicable US consulate will expect you to have a properly formed and licensed business in New York. This is a matter of local New York State and city law.
Our New York E2 visa team have New York corporate lawyers who can assist you to ensure that your business is properly formed and licensed. Our corporate lawyers will work seamlessly with our E2 immigration lawyers to ensure that the applicable documentation is presented to the US immigration authorities.
Two Ways to Obtain E2 Status to Direct and Control a Business in New York
Change of Status from within the US

Clients looking for a business in New York usually want to see the business before they purchase it. It is possible to travel to the United States on a B1 business visa for this purpose.

Clients present in the US on a B1 business or other non-immigrant visa may then be able to "change status" to E2 status from within the US.

As it is not possible to obtain ANY visa from within the United States persons who changed status to E2 status from another visa and subsequently depart the United States will have to obtain an E2 visa from a US consulate abroad in order to return to the United States.

Obtaining an E2 Visa outside the US

Those looking to operate a business in New York can obtain an E2 visa by filing an E2 application at the consulate in their home country. D&A's E2 team in your local country will work with our New York E2 team to assist you with this process.
New York Service, Global Presence
Davies & Associates have a specialist E-2 visa team based in Downtown and Midtown Manhattan focused on meeting the E-2 visa needs of our business clients. Our E-2 visa team includes immigration lawyers, tax lawyers, corporate lawyers and a specialized immigration business plan team.
Our New York E2 visa team supports the lawyers in our offices around-the-world to assist clients set-up or acquire an E2 qualifying business in New York. If you are looking for an E2 business in New York then our New York E-2 team can assist you.
When needed our New York E2 visa team also are able to call on our lawyers both in other US cities and around-the-world for the latest advice on local consular procedures and other issues.
What is the Great E-2 Visa Property Fraud?
The E-2 Visa property fraud is simply the statement that investments in property in New York do not qualify for E-2 visas. Whether or not an investment in a property business in the New York area qualifies for an E-2 visa depends upon the business:
Purely passive investments.

Purely passive investments such as purchasing an apartment do not qualify for E2 visas.

Operating Businesses Operating businesses that sustain employment are likely to qualify for an E2 visa. Examples may include:

- Directing and controlling a large apartment building in New York that has multiple employees.

- Purchasing a portfolio of properties where a full-time employee renovates and maintains those properties which are then placed in the rental market or sold. The more employees such businesses have (such a leasing staff, rental invoicing and collections staff, administrative staff and others) may increase the chance of E-2 visa success.
Choosing an E-2 Immigration Lawyer
Many clients select an E-2 visa lawyer only to have their cases denied. Choosing the right lawyer is critical to your success with your E-2 visa application. Click here to read about some key questions when choosing an E-2 visa immigration lawyer in New York.
How Many E-2 Visas does Davies & Associates Handle in New York?

E2 Visas for Koreans

E2 Visas for Egyptians

E2 Visas for Czechs

E2 Visas for Italians

E2 Visas for Chileans

E2 Visas for Ukrainians
Every day our New York team of E-2 visa lawyers receives inquiries from multiple E-2 visa applicants around-the-world. We file E-2 visa applications very frequently and receive multiple new E-2 visa inquiries every week of the year. We are one of the most active E-2 visa practices in both New York and the United States.
If Davies & Associates Have Never had an E-2 visa Case they have Filed Denied then How Can they Assist with a Denied Case?
While our firm has never had a case we have prepared denied1 we are frequently called on to assist clients who have filed their E-2 visa using another law firm and have been denied. With the exception of one case filed by another law firm in Singapore in August 2013 that our firm was unable to successfully appeal we have been successful in getting E-2 visa applications that were initially denied when filed using another law firm approved.
Why are so many E-2 visas Denied?
In our opinion E-2 visa applications demand a very highly specialized and experienced team of lawyers and business professionals. If you ask a lawyer how many E2 visa petitions they typically file each week of the year you will find that many firms simply to not have deep experience in this area. Also asking a lawyer whether they EXCLUSIVELY handle E-2 or investor visa matters can be a highly illuminating experience.
Who Does Davies & Associates' New York E-2 Practice Represent?
Our E-2 visa team is trusted by businesses of every size ranging from "Fortune 100" global corporations to individual entrepreneurs launching their first business in the United States.
Is a Business Plan Really Important and How Can our New York E-2 Team Help?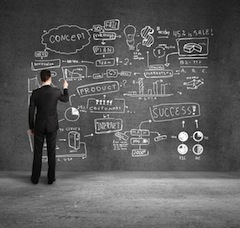 The business plan is your chance to explain your business and how it meets the requirements of the law. It is critical that the law firm representing you thoroughly understand your business and are integral in the preparation of the business plan.
We often travel to our clients' business sites simply to enhance our understanding of their operations. Davies & Associates has a dedicated E-2 visa business plan team experienced with preparing thousands of E-2 visa business plans.
Why is our Global Reach Important to Clients of our New York office?
While it is possible to file for "change of status" from within the United States E-2 visa applications are always filed in local consulates.
Unfortunately the requirements for E-2 visa applications vary at every US consulate. Fortunately, our team has a comprehensive global network. Through our global network we maintain up-to-date information on the latest procedures and regulations at US consulates around-the-world.
Why does Davies & Associates have an Industry Leading E-2 Visa Success Rate?
What our Clients Say
"Another law firm told me that
it was not possible for me to
obtain an E-2 visa. Davies &
Associates obtained a five year
E-2 visa for me"
German E-2 visa client with
New York-based fashion
business.
Typically immigration lawyers are trained in small firms and often have no business experience. Often immigration lawyers "grow-up" filing family-based immigration petitions.
Davies & Associates lawyers graduated from the very top US law schools and most were initially trained as business lawyers in the 10 largest law firms in the world. Many of our lawyers also hold MBA degrees from the world's top business schools, including the Wharton School of Business.
No other immigration firm we are aware of offers this level of experience and training.
We believe the outstanding quality of our lawyers is directly responsible for our industry-leading E-2 visa approval rate.
Where do Davies & Associates E-2 Visa Clients come from?
Our clients come from every continent, except Antarctica. We frequently file cases for clients from across Europe, Australia, the Middle East (including Egypt), South America and Asia.
What is the State Department Reciprocity Problem?
Consular officers are guided by nationality-based US State Department guidelines as to the maximum validity of each E-2 visa they issue. The range of the maximum validity is from three (3) to sixty (60) months.
Davies & Associates are relied-on by other US immigration law firms for our guidance as to how to deal with E-2 visa issuance for nationalities where the guidelines lead consular officers to issue an E-2 visa with a very limited period of validity.
Why Do Davies & Associates have Lawyers admitted in Multiple international Jurisdictions on their E-2 Visa team?
For many nationalities the ability to obtain a US visa depends on issues of foreign law. For example, E-2 visa applicants are required to prove that their funds were lawfully earned in a foreign country. Our firm includes non-US lawyers who assist clients with making lawful transfers of funds and obtaining written opinions on issues of foreign law that are necessary for an E-2 visa application.
Every week of the year Davies & Associates lawyers provide clients with advice as to how to lawfully transmit funds from non-US jurisdictions to finance their US businesses.
Why do Davies & Associates open Escrow Accounts for E-2 Visa Clients?
The law requires that your funds be "irrevocably" invested in the US business. Unfortunately as funds in a business checking account can easily be withdrawn they do not qualify as being "irrevocably invested" in the US business. For a new or smaller business it can be challenging to irrevocably invest the sums required.
Our firm commonly solves this problem by opening an escrow account for clients under the terms of which the funds can only be:
(1) withdrawn for legitimate business purposes; or
(2) refunded to the client in the event that their E-2 visa application is denied. By holder the E-2 visa funds in this was they are deemed to be "irrevocably" invested in the business and can be used for any legitimate business expense.
* At the current time our firm does not have a location in Singapore but our E-2 visa lawyers frequently travel to Singapore and are experienced in filing E-2 visa applications in the US consulate in Singapore.