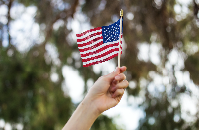 Introduction
Whether you're an investor, an established entrepreneur, or an aspiring one, you're probably thinking of expanding in the U.S. to build wealth. In 2022, the country recorded nearly 5.1 million new businesses with a survival rate of 78.4% for startups. This means, that if you're planning to start a business in the U.S., you are less likely to fail with the right strategies at your disposal. And if you're planning to play a key role in expanding your business in the U.S., you will need an E-2 Treaty Investor Visa to lawfully stay in the country. Please note that you have to be a citizen or national of an E-2 Treaty Country. If not, you may have the option to obtain a passport from a treaty country to qualify for an E-2 visa or status.
Two ways to apply
You can apply for an E-2 visa directly at the Embassy or Consulate. You can apply for the visa with your spouse and your children below 21 years old.

Processing Time

If you're a visa applicant physically present or living in another country, the processing time can vary from the U.S. consulate but generally, it takes 2 weeks to 4 months.

Fees and Costs Involved

Travel Charges - You need to consider the cost of travel to the U.S. embassy or consulate for your interview. These may include hotel accommodations and transportation costs.
MRV Fee - After completing the DS-160 online application, you need to pay the MRV fee of $205 USD. You will need to submit an application package according to Embassy/Consulate instructions/guidelines.
Visa Issuance Fee -Once your E2 visa is approved, you have to pay a visa issuance fee based on a reciprocity schedule. This fee varies depending on your home country and typically ranges between $100 USD to $250 USD.

Visa Validity and Period of Authorized Stay in the U.S.

The validity of the E-2 visa depends on your country's reciprocity schedule. For most countries, the reciprocity schedule is 5 years, but for some countries, it is 3 months. When you enter on a valid E-2 visa, you will be given a period of authorized stay of 2 years. If you depart the U.S. and re-enter on a valid E-2 visa, you will again have a period of two years of authorized stay.

If you have entered the U.S. on a valid E-2 visa and received two years of authorized stay, you can also opt to request to extend your E-2 status without leaving the U.S. by filing an application with USCIS. If your application to extend status is approved, you will get another two years of authorized stay.

If you are in the U.S. on a valid nonimmigrant status, you can apply to change status to E-2 Treaty Investor status. You can apply to change to E-2 status with your spouse and children below 21 years old.

Processing Time

The application to change status is filed with USCIS and may take between 3 to 6 months to be adjudicated. You have the option to pay an additional fee on top of the filing application fee to request premium processing. With premium processing, USCIS is required to respond within 15 days.

Fees and Costs Involved

You can pay these fees from your business bank account.

Form I-129 - The filing fee is $460 USD.
Form I-907 - You have the option to request for premium processing service to have your petition expedited within 15 days for an additional premium processing fee of $2,5000 USD.
Form I-539 - If you have dependents (spouse and children below 21), they also need to file a change of status application with USCIS and the filing fee is $370 USD.
How To Pay E2 Visa Fees?
You can pay for the E-2 visa fees in the form of either a cashier's check, personal check, or money order. The checks must indicate the U.S. Department of Homeland Security as the recipient. An experienced immigration attorney would generally advise making each payment separately rather than combining it into a single payment. This helps in avoiding confusion and errors that would lead to unnecessary delays in your visa processing. Give us a call today to discuss with an experienced immigration lawyer and ensure your filing fees and other additional fees are correctly calculated.
Period of Authorized Stay and Extension of Status
Upon approval of your change of status application to E-2, you will receive a new I-94 for an extended period of two years of authorized stay in the U.S. This means that you can stay in the U.S. for a full period of two years without having to leave. If you leave before the two-year period expires, you will only be able to re-enter the U.S. by applying for a visa at the Embassy/Consulate. Prior to the expiration of the two-year period, you can file for the extension of status for an additional period of two years.
The same fees as detailed above apply.
To know more about the difference between the two ways to apply for a visa, you can also check our article here.
Business Investment or E-2 Visa
If you're planning to form a new business with your E2 visa, then you'd need a lawyer for your startup who can review your situation and determine the best plan of action. After consultations, to obtain an E2 visa, you'd need a "substantial" investment in your startup. Generally, an investment of $100,000 USD is recommended, but the nature and requirements of the business must be taken into consideration.
Business Plan in E2 Visa
Aside from investing and spending on business expenses related to your startup, business plans are also necessary for your visa eligibility. You need toinclude an E2-compliant business plan with your application. These business plans are created by companies that specialise in immigration business plans with fees varying depending on the company you work with.
Administrative Charges
Apart from application fees, there are other fees that you also need to take note of like legal fees and administrative costs tied to your application process including translation fees, certification fees, business entity formation costs, postage, and courier fees among others.
Immigration Lawyer Costs
The help of an experienced immigration attorney makes the application process easier, that's why a lot of applicants choose to work with one. If you're looking forward to working with one, the attorney fees will depend on your case's difficulty, the specific services they will provide, and their particular billing practices.
Translation Costs
Translation costs are another administrative charge that you might need to pay if your application documents are not in English. The fee may vary depending on the volume of documents and languages involved.
Certifications
There are documents that may need the certification of a government agency or organization upon its submission. The certification fees may vary depending on the requirements and the agency or organization signing.
Minimizing Your E2 Visa Expenses
Applying for an E2 visa can get costly, after all, it's related to bringing in a major investment to the U.S., but there are several strategies that you may use to minimize expenses.
Create plans ahead and avoid unnecessary fees - Starting ahead of time in processing your E2 visa application can help you minimize costs in expediting the process. Moreover, this helps you avoid unnecessary expenses such as unnecessary document certifications or translations as you already have a concrete plan for your application.
Compare providers - Since the process also includes other expenses such as your immigration lawyer fee and administrative fees, comparing fees from different providers can help you weigh in your options based on your budget.
Work with an experienced immigration lawyer - When you work with an experienced and great immigration lawyer, not only does it make your application process easier but also helps you avoid mistakes that would otherwise cost a fortune. Here at Davies & Associates, we can help you manage your application to avoid unnecessary delays and costly fees.
E2 Visa Cost Frequently Asked Questions
According to the U.S. Citizenship and Immigration Services (USCIS) website, an E-2 visa is a non-immigration classification granted to foreign investors from countries with a bilateral investment treaty or agreement with the U.S. The foreign investor may invest substantial capital in an existing U.S. business or build a company from scratch.
Here are some of the benefits you'll receive when you decide to get an E-2 visa:
Work legally in the U.S. for a company you invested in - If you're planning or dreaming about conducting business in the U.S., then an E2 visa is a must. Whether you've invested in an existing business or starting your own in the U.S., playing a key role in the business is essential for it to thrive and that means working on the ropes on the scene.
No minimum investment required - The U.S. government doesn't have a specific minimum or maximum amount for an E-2 visa investment. It only requires that the investment must be a substantial amount and that it's always put at risk. As a general rule, however, the capital investment should be based on the nature and requirements of the business.
Family members can also work and attend school - Your spouse may also work in the U.S. based on her visa and I-94. There is no need to apply for an Employment Authorization Document. Meanwhile, if you have children, they can also attend school through their E-2 dependent visa before they turn 21.
Stay indefinitely in the U.S. - There's no limit to the renewal of an E-2 visa provided that the E-2 enterprise continues to operate. If you invest a significant amount of $800,000 or $1,000,000 USD, you have the opportunity to become a permanent resident in the U.S. through the EB-5 Immigrant Investor Program.
The U.S. government provides that you must be a national of a country of E-2 treaty countries with the U.S. to obtain the visa. Your nationality is determined by your citizenship, and in cases of dual or multiple citizenship of E2 treaty countries, you can apply under any citizenship you hold. You may have the option to obtain a passport of a treaty country.
The treaty does specify a minimum amount of investment to qualify for an E-2 Visa, but it requires the investment to be a substantial amount in relation to the nature and requirements of the business. The investment must be at risk as well. While we recommend an investment of at least $100,000 USD, the capital must still be based on the nature and requirements of the business.
Yes, any legitimate or lawful business with the intention to hire U.S. workers is eligible for an E-2 visa. However, take note that while any business is allowable, the business must contribute to the local economy to an extent that's more than marginal and must not exist for the sole purpose of supporting the investor and gaining an E-2 visa.
There is no set deadline for making an investment, but the E2 guidelines provide that you have invested or are in the process of investing and have committed funds as part of the requirements. To be "in the process of investing" means that you're close to the start of the actual business operation.
Family members such as your spouse or your children under 21 years of age can travel with you on an E-2 visa. Their visas are valid for the same period as yours.
Once you're approved, you're allowed a maximum of an initial stay of 2 years, with extensions that can be granted in increments of 2 years.
There is no limit on how many times your E-2 visa can be granted. An E-2 non-immigrant who travels abroad may generally be granted, as determined by a U.S. Customs and Border Patrol Officer, an automatic 2-year period of readmission upon return to the U.S.
Under an E-2 visa, an investor or employee may only work for the enterprise that is the subject of the investment. However, an E-2 visa holder is permitted to partially or fully own other companies. Mere ownership doesn't pose a problem, take note, however, that you're not allowed to work at the new enterprise.
If you still have questions left unanswered, you can also visit here for more FAQs about E-2 Visa.
E2 Visa Costs for Each Treaty Countries
Country
Visa Reciprocity Fee
Albania
None
Argentina
None
Armenia
None
Australia
USD 3,574.00
Austria
USD 31.00
Azerbaijan
None
Bahrain
None
Bangladesh
None
Belgium
USD 420.00
Bolivia 13
None
Bosnia and Herzegovina 11
None
Bulgaria
USD 162.00
Cameroon
USD 240.00
USD 60.00
Canada
USD 40.00
Chile
USD 265.00
China (Taiwan) 1
None
Colombia
None
Congo (Brazzaville)
None
Congo (Kinshasa)
None
Costa Rica
USD 291.00
Croatia 11
USD 395.00
Czech Republic 2
USD 22.00
Denmark
None
Ecuador 14
None
Egypt
None
Estonia
None
Ethiopia
None
Finland
USD 292.00
France 4
None
Georgia
None
Germany
None
Grenada
None
Honduras
USD 195.00
Ireland
None
Israel 15
None
Italy
USD 308.00
Jamaica
None
Japan 5
None
Jordan
None
Kazakhstan
None
Korea (South)
None
Kosovo 11
None
Kyrgyzstan
None
Latvia
None
Liberia
None
Lithuania
None
Luxembourg
None
Macedonia 11
None
Mexico
USD 42.00
Moldova
None
Mongolia
USD 65.00
Montenegro 11
None
Morocco
None
Netherlands 6
USD 2,228.00
New Zealand 16
None
Norway 7
USD 400.00
Oman
None
Pakistan
None
Panama
None
Paraguay
None
Philippines
USD 662.00
Poland
None
Romania
None
Senegal
None
Serbia 11
None
Singapore
None
Slovak Republic 2
None
Slovenia 11
USD 345.00
Spain 8
USD 234.00
Sri Lanka
None
Suriname 9
None
Sweden
None
Switzerland
USD 235.00
Thailand
USD 15.00
Togo
USD 210.00
Trinidad & Tobago
None
Tunisia
None
Turkey
None
Ukraine
None
United Kingdom 10
USD 105.00
Yugoslavia 11
Contact Davies & Associates Offices in United States
Check all of our locations around the world.
Looking to acquire an E2 Visa?
We are known for our creative solutions that obtain "impossible" visas, we solve the most complex immigration problems for businesses, investors, individuals, and families.
E2 Visa Immigration lawyer near me
Several lawyers told me I would not be able to get a TN visa. Two weeks after contacting Davies & Associates I was working in New York, visa in hand.
Individual seeking 'Impossible' TN Visa
D&A was very detail-oriented and was very thorough in what they did" L1 Visa Client. There was a lot of work on my case and worked on it 24/7 and was very patient answering all my questions.
E2 Visa Client
My case felt complex but D&A managed the whole process carefully and helped me move seamlessly from one stage to the next.
E2 + CBI Client
D&A was my guiding light through the entire EB5 Process.
EB5 Visa Client
I would definitely be a big advocate for the rest of my life for anyone wanting to explore the Grenada Citizenship by Investment Programme leading to the E2 Visa. The most important thing is a good team behind you.. with Davies & Associates you're in safe hands… you need someone who can give you all the support at the ground level and, again, you are well take care of by D&A. The people are really warm, very helpful and quite openminded when it comes to business… Not to mention as a passport it's great from a travel perspective…It's just 4/5 hours from New York.
Grenada CBI + E2 Visa Client
The entire process of getting an EB5 visa is handled in a professional way by Mark Davies and his team. EB5 is a wonderful option for anyone considering moving to the United States if you have the means. I was hoping to use the H1B route for my children, but it became unreliable and so I looked to the EB5 Visa instead. It is great for anyone who has the resources. Mark gives you the first meetings himself which gives you great comfort. Both Mark and Sanjay are abundantly available and I even had the pleasure of hosting them at my house.
Parent of 2 EB5 Visa Holders
I'm in a process of extending my L1 visa. I submitted a few questions regarding my case and he contacted me back almost immediately both by e-mail and telephone. Unlike other attorneys I met before, he gave me the impression of knowing from the top of his head what kind of visa I have, and what actions had to be taken to extend it. He is very thorough and clear regarding the process and what to expect in terms of timelines and issues that may arise. He is constantly in contact, so you definitely know he's working on your case.
L1B Visa Holder
Mark Davies is a joy to work with. His extensive knowledge, speedy response and attentive service took away all my fears of dealing with immigration and visa applications. He is very generous with his time in explaining every step along the way and I have already and will in the future recommend him to anybody who is looking for an immigration lawyer.
E2 Visa for Small Professional Business With International Offices
Davies & Associates assisted us with an immigration emergency involving my brother's fiancée who was outside the United States. They assisted us in an highly professional manner, working with the relevant US embassy, US immigration and the governments of two other countries. As a result of their efforts the individual involved is now working in the United States. While their knowledge of the law is exemplary what really distinguishes this firm and attorney Davies from any other firm we have worked with is their dedication to customer service and their unrivaled level of professionalism.
Complex Fiancée Visa Need Involving Multiple International Jurisdictions
Several lawyers told me I would not be able to get a TN visa. Two weeks after contacting Davies & Associates I was working in New York, visa in hand. I have recommended this firm to several friends and colleagues, they do an excellent job every time.
Individual Seeking 'Impossible' TN Visa
I was qualified as a physician in a foreign country. Being on a J1 visa I was facing having to leave the United States and return to my home country. Davies & Associates secured one of only 30 J1 visa waivers available in my State, allowing me to work for a US hospital and remain in the United States.
Doctor Seeking J1 Visa Waiver
I am very satisfied with the services Mark Davies has provided me. He has a very extensive knowledge in immigration laws and has a thorough approach to any case.
U Visa Applicant, A Victim of Crime
Looking to relocate or having trouble with a visa applicaton?
We are known for our creative solutions that obtain "impossible" visas, we solve the most complex immigration problems for business, investors, individuals and families.
Request Free Consultation