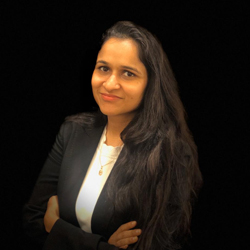 OFFICE LOCATION
Neha Mehta
Of Counsel
---
• Move from credentials to overview
Neha's experience in the field of litigation and private client practice includes asset tracing of Indian assets for international corporates, family business restructuring and efficient estate planning.
Experience
Prior to joining the firm, she was an independent counsel of the Bombay High Court. Neha has also been appointed as a Senior Counsel by the Government of India to represent the Central Board of Excise and Customs in indirect tax litigation in the Bombay High Court. Neha has also spoken at several conferences, including a seminar held by the Goa Chamber of Commerce & Industry on 'Estate Planning'.
Neha has been a practicing Advocate of the Bombay High Court for over 13 years and has attended to a wide variety of complex litigation related to commercial real estate transactions, arbitration relating to commercial and contractual disputes at both domestic and international level, white collar crimes, banking and finance, insolvency and bankruptcy, direct and indirect taxation, company restructuring and labor disputes. Her vast knowledge of dispute resolution has enabled her to successfully advise clients on formulating strategies in High Courts, National Tribunals and the Supreme Court of India.
Neha has been featured in the Indian Express newspaper for successfully representing a woman in the Bombay High Court, who was sexually assaulted by a movie director, in a well-documented "me too" matter. Link Here
Neha has been featured in the Indian Express newspaper for representing the Talwars in the controversial 'Aarushi Murder Case' before the Bombay High Court and successfully obtaining a stay order on the release of the movie 'Rahasya'. Link Here Neha has featured in the Times of India newspaper for representing the Archdiocese of Mumbai before the Bombay High Court. Link Here
---
Academics:
Bachelors of Law, University of Calcutta
Languages:
Hindi
English
BEN
Memberships:
Member, Bombay Bar Association
Member, Bar Council of Maharashtra & Goa
---
Insights