H-1B Visa & Status
What is an H-1B Visa?
H-1B is a nonimmigrant visa category that allows a foreign worker to come to the United States to work in a "specialty occupation," which requires theoretical and practical application of a body of specialized knowledge along with at least a bachelor's degree or its equivalent. Some examples of specialty occupations are architecture, engineering, mathematics, physical sciences, social sciences, medicine and health, education, business specialties, accounting, law, theology, and the arts.
Features of H-1B Visa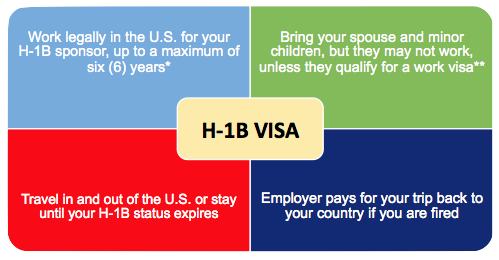 * An employee may receive extensions of H1B status beyond six years in certain circumstances, if s/he is in the process of applying for employment-based permanent residence or green card.
**Certain H-4 dependent spouses of H-1B nonimmigrants can file Form I-765, Application for Employment Authorization, if the H-1B nonimmigrant: (a) Is the principal beneficiary of an approved Form I-140, Immigrant Petition for Alien Worker; or (b) Has been granted H-1B status under sections 106(a) and (b) of the American Competitiveness in the Twenty-first Century Act of 2000 as amended by the 21st Century Department of Justice Appropriations Authorization Act (AC21).
Qualifying for H-1B Visa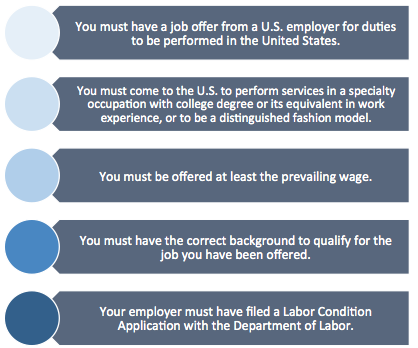 The H-1B Cap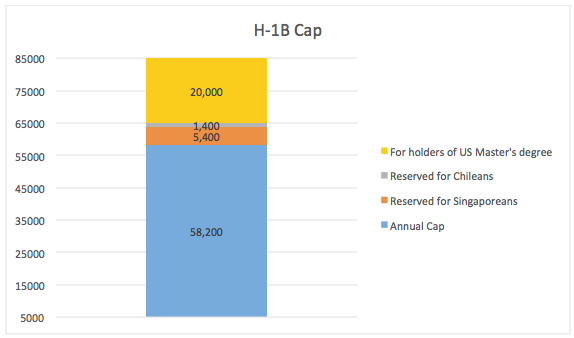 The current annual cap on the H-1B category is 65,000 as set by Congress. From the annual cap, up to 6,800 visas are set aside each fiscal year for the H-1B1 program pursuant to the under the U.S.-Chile and U.S.-Singapore free trade agreements.
An additional 20,000 slots are allocated for individuals who have completed a master's degree or higher education from an accredited U.S. institution or higher learning.
H-1B Cap-Exempt Categories
The law acknowledges that there are certain important sectors that require adequate supply of qualified workers, hence, there are classes of employers that are categorized as cap-exempt. Cap-exempt employers are non-profit institution universities and their non-profit affiliates and non-profit research organization or governmental research organizations.
Aside from these cap-exempt employers, there are also individuals who are not subject to the numerical restrictions, such as: individuals who have already been counted toward the cap (i.e. H-1B extensions, transfers, changes in employment contracts, and concurrent working second H-1B petition). J-1 non-immigrant physicians with waivers granted by the USCIS based on sponsorship by a state health department are also exempt from the cap.
These cap-exempt H-1B petitions may be filed at any time during the year.
H-1B Statistics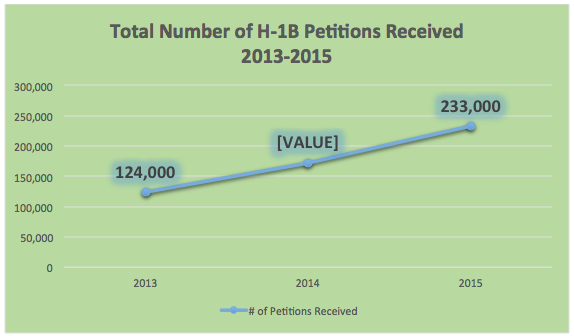 For the past three (3) years, the H-1B cap had been reached within five (5) days from the filing period of April 1st – indicating an increased demand for H-1B workers. For FY 2015, the USCIS received a record-breaking 233,000 petitions. With increased demand for H-1B workers, the number of H-1B petitions for FY 2016 is likely to pass the 233,000 mark.
Considerations for FY 2016 H-1B Visa Season
Labor Condition Application (LCA)
Before filing an H-1B petition at the USCIS, an LCA must first be certified by the Department of Labor. The LCA is required to ensure that a foreign worker neither displaces nor adversely affects the wages or working conditions of U.S. workers in the same area where the employer intends to locate the H1B employee.
In the LCA, an employer makes statements concerning the offer of wage, work location, working conditions as well as termination of U.S. workers in similar position. Effective October 1, 2008, an employer must register with the DOL and create an online account in order to submit any LCA online.
The LCA must be secured way before the start of the filing period since time is of the essence in filing an H-1B petition. You must always check the DOL LCA processing times and plan accordingly. There is a big possibility that the USCIS may close the application window after a couple of days based on the trend in the previous years.
USCIS will start to accept petitions for the next fiscal year starting from April 1st of the previous fiscal year. A fiscal year starts on October 1st and ends on September 30th. For FY 2016 H1B quota, which starts from October 1st, 2016, USCIS is expected to accept applications starting April 1st, 2016.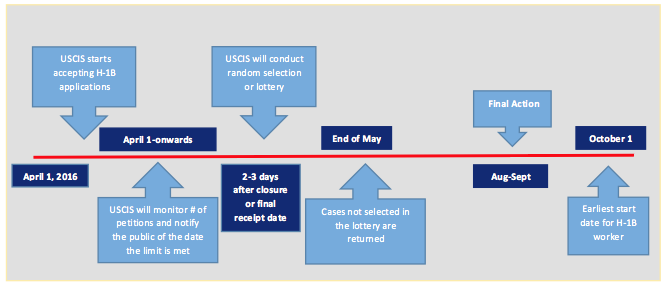 Random Selection or Lottery
Given the trend in the past three years, USCIS is expected to receive more petitions than it can actually accept. This scenario is expected to result in the use of a computer generated random selection process or lottery as USCIS had done in the past. The petitions that are subject to the cap and are not selected will be rejected.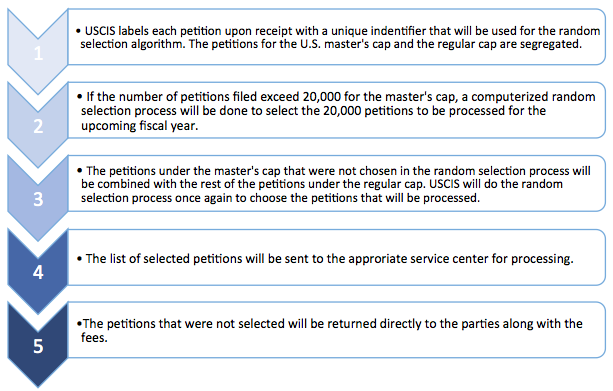 DAVIES & ASSOCIATES SERVICES FOR H-1B EMPLOYERS AND EMPLOYEES
At D&A, we cater to the needs of both the employers and employees. Our lawyers acknowledge the specific need to fill the crucial specialty occupation positions to maximize company productivity as well as the desire of employees to stay in the United States and have gainful employment.
The demand for H-1B visas is consistently growing but the total annual cap remains fixed. Now, more than ever, there is a pressing need to get things done right the first time to improve your chances of securing an H-1B visa. Our experienced lawyers have successfully obtained H-1B visa approvals for different types of employers and varied specialty occupations with our hands-on and individualized approach. At D&A, we can competently guide you through every step of the way.
Consulting with employers and employees
At D&A, we recognize the need to take the time discuss the case or situation of every client in order to confirm whether the H-1B visa is the best visa solution available for the employer and employee. We open the discussion to possible alternatives and clarify respective responsibilities of every party. We plan accordingly given the timing issues with the H-1B application process.
Preparing your H-1B application package
Once we confirm that the H-1B visa is right for you, our lawyers will prepare your application package conscientiously to avoid Request for Evidence (RFE) or denials. It is a fact that there are many applications are denied for failure to meet the requirements, incomplete job description, inadequate showing of employer-employee relationship or even incorrect filing fees. Given the competition for H-1B visas, the employer and the employee cannot afford to make a mistake. At D&A, we commit to do things right the first time.
Submitting your application
At D&A, we will submit your application to the proper government agency on time. With our experience, we are fully aware with the timing issues and plan accordingly. After submission, we will coordinate with appropriate government agencies and update you on the developments consistently. You also have complete access to your records online.