VIBE: HOW TO AVOID AN RFE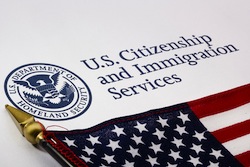 What is VIBE?
VIBE stands for "Validation Instrument for Business Enterprises Program". VIBE is a program instituted by the US Department of Homeland Security("USCIS").
Can VIBE Registration Avoid an RFE?
If USCIS cannot find your business in the VIBE database they may issue an RFE, otherwise known as a Request for Evidence. Ensuring that your business is registered in VIBE can avoid an RFE.
How is VIBE Used?
When a business files certain non-immigrant visa applications, including for L1 visas and E2 visas USCIS will verify the basic information on the business filing the application using data USCIS has in its VIBE database. VIBE obtains this data on businesses from an independent party. This independent party is currently Dunn & Bradstreet.
USCIS have stated that they use VIBE to process the following types of visa applications:
H-1B2, worker performing services related to a Department of Defense cooperative research and development project or coproduction project
H-1B3, fashion model of distinguished merit and ability
H-2A, temporary or seasonal agricultural worker
H-2B, temporary nonagricultural worker
H-3, trainee or special education exchange visitor
LZ, blanket L petition
Q-1, international cultural exchange visitor
R-1, religious worker
Who are Dunn & Bradstreet?
Established in 1841, Dunn & Bradstreet is a major US Public Company in the credit reporting and business information industry. Dunn & Bradstreet are the current provider of the information USCIS use in their VIBE program.
Do I need to Register my US Business in VIBE?
It is NOT essential to register your US business in VIBE. That said, ensuring that Dunn & Bradstreet hold correct information about your business will ensure that USCIS are able to verify the data you provide in your firm's visa applications in VIBE. Ensuring that VIBE has correct information on your business can avoid potential RFEs and delays.
What happens if the Information on my Business in my Visa Petition and at VIBE are Inconsistent?
An application or petition filed with USCIS, or an E visa application filed with a consulate, will not be denied purely on the basis of a discrepancy in VIBE. USCIS or the consulate will allow you to answer questions about the discrepancy and/or investigate those discrepancies. USCIS normally do this by issuing a Notice of Intent to Deny (NOID) or a Request for Evidence (RFE). In a consulate your case may be placed in administrative processing while the consular officer investigates the discrepancy.
How do I Check to See if the Information on my Business is Correct in VIBE?
As Dunn & Bradstreet are the current provider of VIBE this involves checking the information held by Dunn & Bradstreet. This can be done by visiting About the D‑U‑N‑S Number.
What if my Business is Not Listed in VIBE?
If your business is not listed in VIBE then you can register it by visiting Find Answers to Your D-U-N-S Number Questions Here. This can however be a complex process which the lawyers in on our firm can complete for you.
Where is D&A's VIBE Registration Team Based?
Our firm has a VIBE registration team in Manila, Philippines and Virginia, USA. This split timezone allows our immigrant visa and non-immigrant visa immigration lawyers to work on VIBE registrations 24 hours a day.
Do USCIS Provide Information on VIBE?
Yes, USCIS has a webpage giving helpful information on VIBE. The website is located at http://www.uscis.gov/working-united-states/information-employers-employees/employer-information/vibe/validation-instrument-business-enterprises-vibe-program.
How Does VIBE Confirm my Business Plan?
A business plan is a critical element of many types of business visa applications. To the extent that the USCIS officer reviewing your case can see that appropriate elements of your business plan are confirmed by the information in VIBE it may be helpful to the efficient processing and adjudication of your case.
Can The Immigration Lawyers at Davies & Associates Assist me with VIBE?
The non-immigrant visa lawyers and business visa lawyers at Davies & Associates will verify and update your information in the Dunn & Bradstreet database. If necessary we will also assist you with registering your business with Dunn & Bradstreet. We will also assist you obtain a copy of the Dunn & Bradstreet report on your business.