E-2 Status for Indian Born Purchaser of Retail Business with Australian Passport
Turnkey Business Acquisitions and Investor Visas: E-2 Status for former Indian National
Industry: Retail
Countries Involved: India and Australia
Result: Change of Status to E-2 visa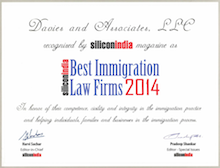 Background
Indian by birth and with a Indian passport holder wife, our client was the owner of a well-known restaurant franchise in Australia. Wishing to establish a corporation in Southern California and use it to acquire and run a retail business, our client needed to move his family from Australia and India to California.
Our client's View
"Davies & Associates provided me with truly outstanding customer service 7 days a week. Technically brilliant, Davies & Associates not only successfully obtained E-2 visa status for myself and my wife who has an Indian Passport but also seamlessly coordinated my entire legal team, ensuring the timely completion of my acquisition.
There is no question that Davies & Associates is clearly the leading E-2 visa law firm in the United States."
Issue
With the seller threatening to "pull out", our client needed to move quickly and needed a law firm to manage all aspects of the transaction. Failure to complete the transaction would have meant our client having to leave the United States at a time when he had critical personal and business reasons to be in the country.
Our client also had substantial assets in India that had significant "tracing" issues and a pregnant Indian National wife ready to give birth.
Solution
Davies & Associates rapidly brought together a team of immigration and corporate lawyers. Seamlessly working together the team were able to set-up a new corporation and apply for an "emergency" change of status to E-2 status using premium processing.
Results
Our client rapidly obtained E-2 visa status for both himself and his wife. As a result our client was able to close his acquisition and open his US retail business.