While Joe Biden spoke favorably about immigrants in the run-up to the 2020 election, he may find his ability to act favorably hampered by a hostile Senate and an economy ravaged by Covid. Despite this uncertainty, once visa category is likely to continue to be unscathed by all the dramas in Washington: the E-2 Treaty Investor Visa.
This is because the E-2 Visa is governed by treaties with sovereign countries that long outlast one president or another. In fact, the oldest E-2 Treaty – with the United Kingdom – dates back more than 200 years.
The E-2 Visa allows foreigners to move to the United States with their families for the purpose of owning and actively managing a business. This could be something they start-up from scratch, or it could be an off-the-shelf franchise business.
There is no fixed investment required for an E-2 visa, but the amount of capital being brought into the United States needs to be proportionate to the needs of the business.
The spouse of the E-2 visa holder can apply for work authorization in the United States and is not tied to working in the E-2 business. This offers a lot more employment flexibility than the H-1B visa, which somewhat bounds and employee to a particular employer.
The E-2 Visa does not bestow permanent residency, but can be renewed indefinitely provided the underlying business is still in operation. There are options for transitioning to a Green Card – for example, through the EB-5 Visa Program.
The E-2 has enjoyed bipartisan support in the United States because it brings investment and creates jobs. In fact, when President Trump chose to suspend a swathe of visa categories in response to Covid, he deliberately exempted the E-2 Visa from the "ban".
Unlike other visa categories, there are no quotas or country caps for the E-2 Visa, and processing times are very fast in comparison.
The key limitation is whether your country holds a relevant treaty with the United States. You can find out if you country holds a treaty with the US here.
If your country does not hold a Treaty then don't worry, there are still options. Firstly, new countries are sometimes added to the list. For example, Israel and New Zealand are recent additions to the list of E-2 Countries.
Nevertheless, citizens of countries like India, China, Vietnam, South Africa and more are not eligible for the E-2 Treaty Investor Visa. Citizens of these countries have to obtain citizenship of an E-2 Treaty Country first.
The two countries that offer the most cost-effective and fastest routes to citizenship are Grenada in the Caribbean and Turkey. Once you have obtained citizenship of one of these countries, you can apply for the E-2 visa.
Grenada offers citizenship for a real estate investment starting at $220,000 or a donation of $150,000. Processing times are extremely fast and you are not required to visit the island. There is no tax on worldwide income and there are no residency requirements. Grenada allows dual citizenship.
Turkish citizenship can be obtained in a matter of months in exchange for a $250,000 investment in real estate or $500,000 deposits in a Turkish bank. Turkey is a popular option because of its helpful position as a global aviation hub.
Table: E-2 Countries Offering Citizenship By Investment
View our step-by-step infographic detailing the process of obtaining an E-2 Visa through citizenship by investment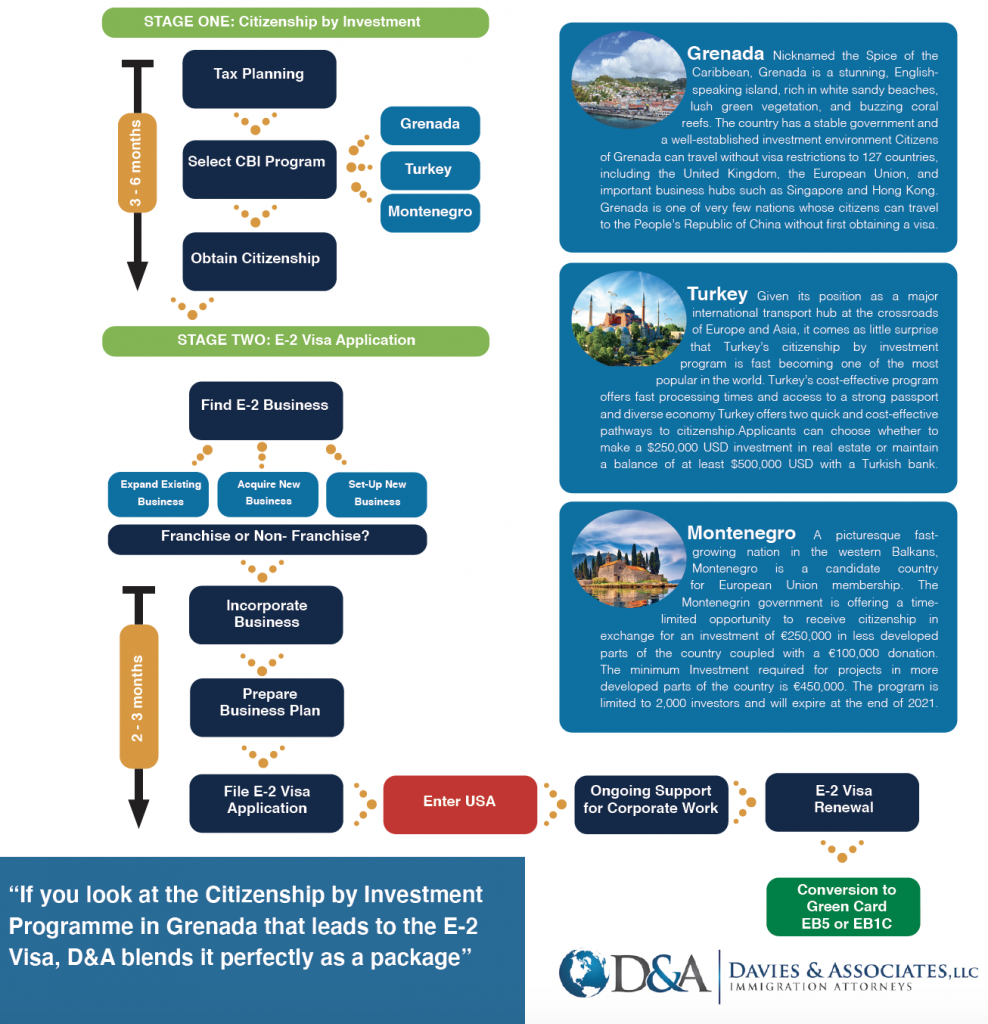 This article is published for clients, friends and other interested visitors for information purposes only. The contents of the article do not constitute legal advice and do not necessarily reflect the opinions of Davies & Associates or any of its attorneys, staff or clients. External links are not an endorsement of the content.