---
The U.S. Department of State's January Visa bulletin shows very little change since our previous analysis. In the EB-5 immigrant investor visa category, only China and Vietnam continue to face delays. There has been no movement in the priority dates for EB-5 applicants born in China and only very slight progress for Vietnam with a revised Final Action Date of September 15, 2017.
India continues to remain "current", meaning Indian EB-5 applicants are still no longer subject to retrogression delays. Yet, this could change. Our firm is seeing a recovery in demand following the initial "sticker shock" of the increased EB-5 investment amounts in November 2019.
---
Understanding Priority Dates
The date referred to in the visa bulletin is a "priority date". This is the date that the US Citizenship and Immigration Services receives your initial EB-5 petition (form I-526).
If your country of birth is not listed in the visa bulletin or it is listed with a "C" next to it (meaning current), this means there is no waiting list for people born in your country and your application can proceed immediately.
If there is a date next to the country in which you were born, you will need to wait until your priority date becomes current. That means waiting until your priority date is before the date listed in the visa bulletin.
So this month, for EB-5 we only saw very slight movement in the Final Action Date associated with Vietnam. It moved from September 1, 2017 in the December 2020 visa bulletin to September 15, 2017 in the most recent one. This means there is expected to be a visa available to any EB-5 investor from Vietnam with a priority date in this two week window.
---
Final Action Date vs Dates for Filing
The visa bulletin has two tables associated with EB-5 and other employment-based visa categories. This is because they are signalling two different things to applicants.
One relates to "Final Action Dates", which is when there is expected to be a visa available to people born in that particular country. The other table is the "Date for Filing", which is when you can submit a visa application to the National Visa Center, even though there might not yet be a visa available. For applicants already inside the US making an "Adjustment of Status" (AOS), this may have implications for your rights to work.
The Date for Filing remains current for all countries except China. The Date for Filing for China-born applicants has not moved this month.
---
Final Action Dates Table
Note: EB-5 is – as the name suggests – the fifth of five employment-based immigrant visa category
---
Date for Filing Table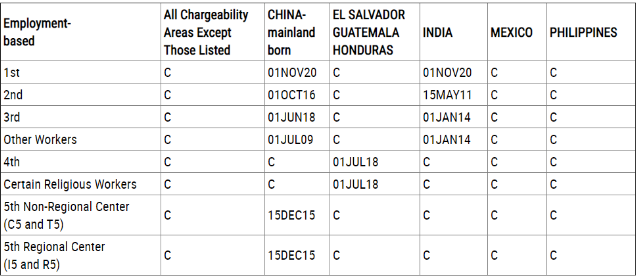 ---
Understanding Waiting Lists
The reason some countries are subject to a waiting list is because these employment-based immigrant visa categories are subject to an annual per-country quota. In terms of EB-5 this is just over 700 visas per country per year, determined by a person's citizenship at birth rather than any subsequent changes to citizenship.
When demand exceeds supply, countries are subject to a waiting list. Priority dates can sometimes cause confusion, especially as they can move backwards as well as forwards. This happens partly because it can be difficult to predict the exact number of people in the queue and much relies on a series of assumptions based upon past averages.
The number of applications is not equal to the number of visas / Green Cards. A single EB-5 visa application can cover not just the applicant, but a spouse, and children under the age of 21 – which means multiple visas are required for the one application.
Furthermore, it is difficult to know exactly how many people ahead of you in the queue would be denied or required to provide further evidence (RfE).
One of the main reason for a denial or demands for more evidence is poorly documented Source of Funds. To avoid this happening, it is vital to select a reputable law firm who has a strong track record in this area. Here at Davies & Associates we have never had a client rejected because of a Source of Funds issue.
---
Other Employment-Based Categories
For the EB-3 visa category for highly-skilled workers, every country is current except for India and China. The EB-3, which is essentially the long-term immigrant counterpart to the H-1B visa, is inevitably very popular in India. The waiting list for Indian applicants is very long and only moved forward one week from March 15, 2010 to March 22, 2010. China moved forward six weeks from November 1, 2017 to December 15, 2020.
For the EB-1 visa category for extraordinary talent, researchers, and managers & executives, again India and China are the only country in retrogression. One of the reasons these two countries appears so often in this analysis is that the annual quotas do not take account of population size and are not determined on a per capita basis. China and India have the world's largest populations as well as a long tradition of immigration to the United States.
The Final Action Dates are the same for both countries at September 1, 2019, having both moved forward by the same five month period since the last visa bulletin.
---
This article is published for clients, friends and other interested visitors for information purposes only. The contents of the article do not constitute legal advice and do not necessarily reflect the opinions of Davies & Associates or any of its attorneys, staff or clients. External links are not an endorsement of the content.