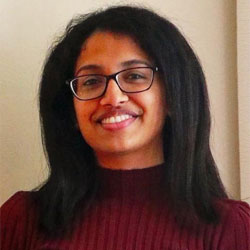 Aparna George
Dallas, Texas
Overview
Aparna George is a professional, capable of working in multicultural teams to analyze data and create compelling insights to be utilized in solving complex business problems and understanding user needs. She has previously worked as a data analyst and digital marketing intern where she utilized analytical tools to identify problems, develop insights, and provide recommendations. She describes herself as someone who has emotional intelligence and have been through failures. She makes it a point to learn from failures to improve and grow.
George completed a Master of Science in Business Analytics, where she applied analytical tools, machine learning, and languages such as Python, SQL, RShiny, Tableau to interpret and visualize data on multiple projects. Before this, she completed a Master of Science in International Business from Dubai, where she worked in multicultural teams and learned about international business strategies. Her experiences, during her masters, have molded me into a business professional with an analytical mindset, which is essential in a rapidly changing business environment.
The background she has in engineering has provided her with the ability to be a critical thinker and problem-solver, which is key in understanding trends in data and analyzing it. Her ability to manage several projects efficiently and communicate with clarity between teams has been essential in being successful as a Pre-sales Technical engineer in Electronics, business supplies, and equipment industry. Working for SIBCA, UAE has taught her how to interact with clients and work in cross-functional teams to effectively plan, manage, and coordinate projects on time.
Lastly, George values the concept of shared value and power of communities and believe analytics can play a major role in accomplishing such. She loves to learn, improve her skills, apply, and grow to create a positive impact where she is placed.
Credentials
Education
MS, Business Analytics, HULT INTERNATIONAL BUSINESS SCHOOL
MS, International Business, HULT INTERNATIONAL BUSINESS SCHOOL
BTech, Electronics and Communication, RAJAGIRI SCHOOL OF ENGINEERING AND TECHNOLOGY
Memberships
Member, Society of Engineers Association in Dubai (United Arab Emirates)
Languages
English
Hindi
Malayalam
Arabic